Formula 1 motors back into United States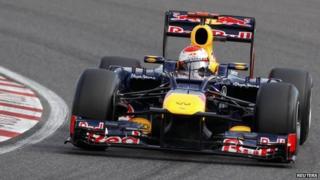 A clock hangs on a wall in the offices of Circuit of The Americas (Cota) in Austin, Texas, counting down to 13:00 on Sunday 18 November, when the five red lights will go off at its track, marking Formula 1's return to the US.
This year's F1 US Grand Prix will be the first since 2007. About 120,000 spectators are expected to cheer on a sport with a turbulent track record in the US.
Some question the viability of F1 in the US because of the phenomenally popular racing sports of Indycar and Nascar.
Cota's track was left almost half completed in 2011 when F1 boss Bernie Ecclestone indicated the deal was off.
But Austin now has its race, with a 10-year contract, and a share in the enormous amounts of money involved, affecting both millionaires and more humble proprietors.
"I've had everyone from F1's management come in but Bernie," says Wyman Gilliam, owner of Wild Bubba's Wild Game Grill, half a mile from the track's main entrance.
"I know he's been busy but there's an open offer for him to come try our antelope burger." Revenue has increased by 80% at his grill since construction began.
'Greatest hits' track
The only purpose-built and Federation Internationale de l'Automobile (FIA) Grade I certified track in the US snakes over what used to be ranch land.
Total construction costs will near $400m (£266m) according to Geoff Moore, Cota's chief marketing and revenue officer. He likened the track to a greatest hits collection, taking the most compelling turn sequences from other F1 tracks to create the most exciting race.
Turn 8 came from Istanbul Park; Silverstone's kinks at Maggotts shaped Turns 3 to 5, with Hockenheimring inspiring Turns 12 to 16. A signature 133ft (40m) rise from the starting line to Turn 1 affords views toward Austin's skyline less than 15 miles (24km) away.
Austin has grown from a laidback city with a counterculture vibe into a rapidly expanding hi-tech metropolis with a population of more than 1.7 million.
It is hoped the city's vibrant nightlife and live-music scene will keep F1 fans returning.
Race weekend will have an estimated economic impact of $400m for Austin and the surrounding Texas area.
"It's important to diversify revenue streams when dealing with Mr Ecclestone," says Steve Sexton, Cota's president.
"He's a very good negotiator."
Austin's hosting fee was reportedly $25m.
Deal for Texas
Yet a convoluted sequence of events nearly sank Austin's race.
Initially a letter was sent to Mr Ecclestone in 2010 indicating the state of Texas was "as keen as a duck on a junebug to host the race", says Jerry Patterson, Texas land commissioner responsible for stewardship of state lands and resources.
It stated, however, certain conditions had to be met.
This may have riled Mr Ecclestone, as another letter soon followed from Susan Combs, Texas comptroller of public accounts, stating the required funds - $250m over 10 years - would be forthcoming.
But this was beyond her remit, Mr Patterson says, and she eventually had to rescind that commitment in 2011.
Mr Ecclestone then gave a news conference casting doubt on Austin's race. Construction halted at a half-complete track in November 2011.
"Ecclestone wanted the money up front and held the city of Austin to ransom," says a former Texas Capitol staffer who wants to remain anonymous, "causing a big scramble for the funds."
It took capital from two Texan financial big wigs, Red McCombs and Bobby Epstein, to save Austin's bid.
"Bernie is a shrewd operator, very tenacious, maybe even a little Machiavellian, but I don't fault him for what he did," Mr Patterson says.
US difficulties
The US Grand Prix has hit a number of road bumps during 51 races held at nine locations since 1959.
Downtown Phoenix's 1990 street race failed to impress local crowds—more spectators attended a nearby ostrich race. When the following year's race only drew 18,500 spectators, F1 and the US parted ways.
F1 returned in 2000 to the Indianapolis Motor Speedway, drawing more than 200,000 spectators—the most in F1 history. But the 2005 race is remembered for a tyre debacle that led to seven teams withdrawing and only six cars racing.
The 2006 race occurred without controversy but then came news the 2007 race would be the last as an agreement couldn't be reached between the speedway's management and Mr Ecclestone.
In 2009 Mr Ecclestone announced there was no plan for F1 to return to the US. But in May 2010 the race was awarded to Austin, with Mr Ecclestone and race promoter Tavo Hellmund agreeing a deal.
If only it were that simple. Mr Hellmund fell out with Mr McCombs and Mr Epstein and Cota, followed by a lawsuit, while Ms Combs came under fire for misappropriating state funds and the track lost months of construction due to November's impasse.
Mr Ecclestone plans a New Jersey race for 2013, which could compete with Cota's brand, says its marketing chief Mr Moore.
At the same time it might help by boosting F1 awareness in the US, with Austin remaining the only purpose-built track.
Happy ending
Grill owner Mr Gilliam has been an F1 fan since the 1970s, when he followed the likes of Jackie Stewart and Niki Lauda.
He blames bad marketing for many of F1's mishaps in the US. He's confident social media and the internet will result in more Americans appreciating European-style racing.
There has been no downside to F1 coming to Austin, he says. "I just wish I had a bigger parking lot."
Those at Cota might see it differently. Mr Moore would prefer not dwell on last November, though he can relax now all race tickets are sold.
A recent power cut at Cota's offices means the clock on the wall might be out by a few hours, according to an office employee. Regardless, race lights will be going red come Sunday.
"I hope the investors make lots of money," Mr Patterson says. "I hope the state of Texas makes lots of money, and I hope everyone has a hell of a good time."