eBay targets growth in China with a new partnership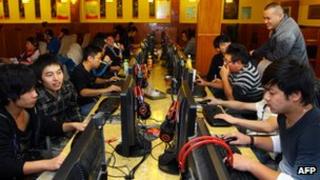 The operator of the world's biggest online marketplace, eBay, has agreed to partner with a Chinese firm to boost its sales in the country.
It will launch a localized shopping portal, eBay Style, in collaboration with Xiu.com, a Chinese online retailer.
Foreign firms are looking to tap into China's booming internet market, amid sluggish growth in developed nations.
With more than 500 million users, China is the world's biggest internet market.
That is expected to grow even further in the coming years as more people in rural areas get access to the internet.
And with growing popularity of online shopping in the country, China has become a key market for e-commerce with internet firms.
According to various estimates, total online retail trade volume in China was about 800bn yuan ($129bn; £80bn) in 2011 and is expected to increase further this year.
Melanie Tan, the vice president of eBay, said the firm had seen a rise in its sales in China and was keen to explore further growth options.
"Chinese consumers are increasingly coming to eBay and we have seen a 40% year on year increase of goods bought by Chinese consumers navigating eBay.com in English," she said.
"We believe that in the future Chinese consumers will use eBay as a passport to global Fashion styles, especially for leading women's brands and accessories, and menswear," she added.