Greece secures short-term finance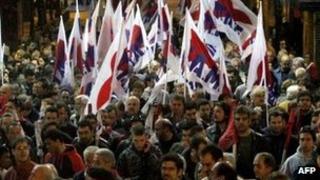 The Greek government has managed to sell 4.06bn euros ($5.15bn; £3.24bn) of treasury bills, which are very short-term bonds.
It sold the one-month bills at an interest rate of 3.95% and the three-month bonds at 4.2%.
The money is needed to cover 5bn euros of old treasury bills, which are due for payment on Friday.
Greece needs to raise the money this way because it has not yet received the next tranche of its bailout loans.
The remaining 940m euros needed will be raised over the next few days, but not through auctions.
Eurozone ministers agreed earlier in the week to give Greece two more years, until 2016, to meet its deficit-reduction targets.
But they delayed a decision on releasing the latest 31.5bn-euro tranche of bailout funds.
The ministers will meet again on 20 November to discuss releasing the latest instalment of bailout funds.
Greece had been pushing for the funds to be released after passing a tough budget for 2013, including further cuts to pensions and wages, in a vote on Sunday night.
The interest rate paid on the three-month bills was slightly lower than at the last auction, when the rate was 4.24%. There was no comparable rate for the one-month bills.
Avoiding default
Demand for the three-month bills was slightly down on the last auction, with coverage of 1.66 times, down from 1.90 in October.
The debt that needs to be repaid on Friday was incurred at an auction of three-month bills in August. That auction, in turn, was also needed to avoid a default, because of delays in the payment of bailout loans from the troika of the European Central Bank, International Monetary Fund and European Union.
The latest 31.5bn-euro tranche will have to be approved by some national parliaments, including Germany's.
There is a continuing debate in Europe about whether, in addition to giving Greece extra time to reduce its deficit, it should also get extra time to cut its debt.
The deficit is the amount of money it is spending in a year over and above what it is earning through taxation, while the debt is the total amount it owes.
Some eurozone finance ministers have argued that Greece should be allowed until 2022 to reduce its debt to 120% of its GDP, which is the total amount produced by the economy.
But the International Monetary Fund has said that the existing deadline of 2020 should remain.
"We clearly have different views," IMF chief Christine Lagarde told a news conference on Monday. "What matters at the end of the day is the sustainability of the Greek debt."