BHP Billiton sells diamond business to Harry Winston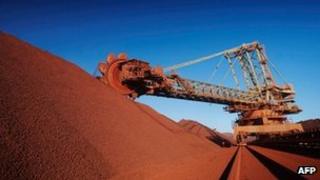 The world's largest mining firm, BHP Billiton, will sell its diamond business to jewellery maker Harry Winston as it looks to focus on core businesses such as iron ore and coal.
BHP will sell its Ekati mine in Canada and its diamond marketing operations for $500m (£314m).
The mine has produced more than three million carats of rough diamonds per year for the past three years.
However, diamond prices have fallen and recently hit an 18-month low.
BHP said it wanted a "simpler business", adding that the sale would let it focus on "large, long-life, low-cost, expandable, upstream assets".
Last year, BHP launched a review of its diamond business to assess whether it was feasible to keep operating the division.
In December, it agreed to sell a 51% stake in the Chidliak diamond exploration project on Canada's Baffin Island to Peregrine Diamonds. It has recently also sold holdings in Richards Bay Minerals in South Africa and Yeelirrie in Western Australia.