India's rate of inflation slows in October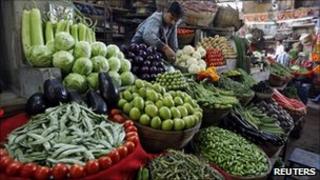 India's inflation rate has slowed in October, indicating that food and fuel pressures may be easing in Asia's third-largest economy.
The wholesale price index, the country's main gauge of inflation, rose 7.4% in October from a year earlier.
That compares with a figure of 7.8% in September and a revised 8% in August.
However, analysts said that the figure was still higher than many policymakers wanted and as a result the central bank may not rush to cut interest rates.
The central bank has been under pressure to lower borrowing costs, in order to help revive India's slowing economy.
"The underlying inflationary pressures are firm and this number is not necessarily sufficient to change the Reserve Bank of India's reluctance to cut interest rates," said Leif Eskesen, chief economist for India and the Association of Southeast Asian Nations at HSBC.