Manchester United reduces debt to £359.7m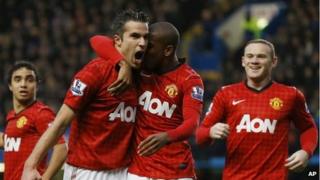 Manchester United has reduced its gross debt in its financial first quarter after the Glazer family used the proceeds of the club's flotation to pay off £62.6m of bonds.
Gross debt fell to £359.7m in the three months to 30 September 2012, down 17% on a year earlier.
Total revenue rose 3.4% to £76.3m, the Old Trafford club said.
But broadcasting revenue fell 37.4% to £13.7m, mainly because of issues involving match scheduling.
United played one Champions League game in the quarter, whereas it played two in the same period last season, and it had two fewer Premier League games broadcast live in this year's quarter.
These differences accounted for a drop of £5.6m, though the club said it would make up some of the Champions League revenue in the next quarter.
It also earned £2.6m less from the Champions League group stages as a result of finishing second in the Premier League in 2011-12, compared with finishing first in 2010-11.
'Record quarter'
The club, currently leading the English Premier League, floated on the New York Stock Exchange in August.
It said it took a £3.1m charge related to professional adviser fees in connection with its stock market listing.
It also said it made a £4.8m profit from player sales in the quarter, mainly from the moves of Dimitar Berbatov to Fulham and Ji-Sung Park to QPR.
Overall, it made a net profit of £20.5m, largely boosted by a tax credit, compared with a loss of £5m a year earlier.
"Manchester United had a record first quarter driven by our commercial operation, which continues to experience extremely strong global revenue growth in new media and mobile, retail merchandising and sponsorship," said Ed Woodward, executive vice-chairman.
Revenue from its commercial operations increased 24.3% to £43m, driven by 10 new sponsorship deals entered into during the quarter, including those with General Motors and sports betting company Bwin.
Matchday revenues rose 13.3% to £19.6m, principally from one-off fees earned from staging nine Olympic Games football matches at Old Trafford.