Gazprom to build new gas pipeline to Europe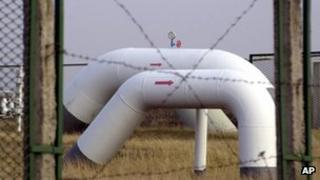 Russian gas company Gazprom has committed to building an expensive pipeline that would deliver Russian gas to southern Europe.
The South Stream pipeline is due to start operating in 2015, eventually transporting up to 63bn cubic meters of gas a year.
It will be funded by Gazprom, Italy's Eni, France's EDF and a unit of Germany's BASF.
The pipeline will travel under the Black Sea via the Balkans.
Some analysts have estimated the cost of the pipeline at about 16bn euros ($20.4bn; £12.8bn) and Gazprom is expected to fund half of the total capital expenditure.
Gazprom signed the final investment agreement with its European partners late on Wednesday and will start construction next month. The financial details of the agreement were not disclosed.
The South Stream pipeline was first suggested in 2007. It follows disagreements with the Ukraine and Belarus over gas pricing, which has led to gas being cut off to some parts of Europe.
"South Stream's contribution into providing Europe with energy security is very significant. It allows us to create alternative and secure natural gas supply routes to our consumers," Gazprom's chief executive Alexei Miller said.
It will go from Russia to reach Bulgaria, Serbia, Hungary, Slovenia, Austria and Italy in one leg, and Croatia and Greece in a second.