BP fined $3bn to $5bn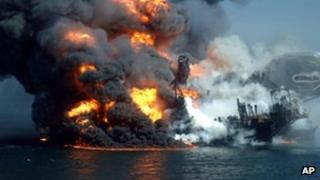 I have learned that BP is set to pay fines and penalties of between $3bn and $5bn to settle the criminal case against it brought by the US Department of Justice in the wake of the Deepwater Horizon oil disaster of 2010.
The settlement will be announced this afternoon in Washington by the Department of Justice.
It will be the biggest criminal penalty in US history.
However BP is thought to be relieved that it has reached a settlement, because the potential liability was unlimited - although the settlement involves the humiliation for the leading oil company of pleading guilty to criminal charges.
It is thought there will also be arrests of up to four BP engineers and technical staff.
Eleven people died in the initial Deepwater Horizon explosion, which then caused the biggest ever offshore oil spill, in the Gulf of Mexico.
BP has already spent many billions of dollars cleaning up the pollution and compensating victims.
The settlement with the DoJ is only for the criminal charges. BP faces years of civil litigation from the Department of Justice and individual states, as they seek damages relating to the spill.
UPDATE 13:35 GMT
My understanding is that the fine will be around $4bn, and it will be paid in instalments over a period of years.