Fraser & Neave in takeover battle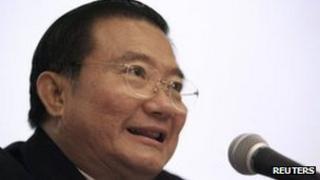 Two of Asia's biggest tycoons are going head-to-head to take control of Singaporean conglomerate Fraser & Neave (F&N).
A group led by the Stephen Riady-chaired Overseas Union Enterprise (OUE) has launched a 13.1bn Singapore dollars ($10.7bn; £6.7bn) bid for the firm.
That trumps a SG$9bn offer by a Thai group controlled by billionaire Charoen Sirivadhanabhakdi.
F&N sold its stake in Tiger beer maker to Heineken earlier this year.
Analysts said the Thai group, which is already the biggest shareholder of F&N, was likely to raise its offer.
"With the latest offer coming in at just 20 cents a share higher than the Thais, it leaves the battle nicely poised for Thai tycoon Charoen to come back with an improved offer that beats OUE and puts the game out of reach once and for all," said Justin Harper of IG Markets in Singapore.
"The phone line to his financial backers could be busy for most of the day."
Breaking up?
F&N has interests in various business, including a successful food and beverage division with brands such as 100plus.
It has also entered the real estate market and has developed projects across the region in Singapore, China and Thailand, and also in the UK and Australia.
Its real estate division has assets in excess of SG$7bn.
Mr Riady of OUE said the firm's real estate holdings "would be highly complementary to OUE's existing property portfolio".
"Combining both will further strengthen OUE as a leading property player in Singapore and expand our footprint in Singapore and regionally," he added.
Meanwhile, OUE said that it had also secured support for its bid from Japanese drinks maker Kirin, which is F&N's second-largest share holder with a 14.8% stake.
OUE said that if its bid is successful, Kirin would offer to buy F&N's food and drink business for SG$2.7bn.