Banks criticised after CPP card protection fine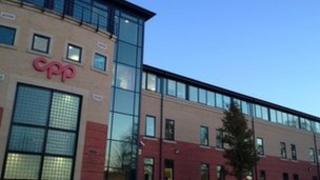 Banks must share the blame for mis-sold card protection, after a regulator fined the firm CPP £10.5m, says an influential MP.
John Mann, who sits on the House of Commons Treasury Select Committee, said most policies were sold when bank customers rang up to activate their cards.
The products were supposed to protect people against identity theft.
CPP has apologised and said it has taken steps to change its practices.
CPP sold a card protection product, which cost about £35 a year, that was designed to cover losses if a card was lost or stolen.
It said customers would benefit from up to £100,000 of insurance cover, but customers were already covered by their banks. Generally, cardholders are not liable for unauthorised card payments on lost or stolen credit and debit cards.
A second product was sold for £84 a year which was designed to cover costs if the customer's identity was stolen.
Many customers were put in contact with CPP when they rang a number on their new bank card in order to activate it. Many thought they were talking to their bank, but they were in fact being put in touch with a salesperson from CPP.
CPP then used the opportunity of the call to offer card protection insurance. If the customer bought the product, the bank got a commission.
John Mann MP told Radio 4's Money Box programme: "There's no question there was deception in the way they were sold and there was deception on the profit margins which weren't revealed to people. People were being diddled."
The Financial Services Authority (FSA) found that CPP overstated the risks and consequences of ID theft when this insurance was being sold. During the period of mis-selling between January 2005 and March 2011, CPP sold 4.4 million policies and generated £354m in gross profit, the FSA said.
Bank scrutiny
Some 18.7 million policies were renewed during the same period, generating an income of £656m.
John Mann believes the regulator could have acted more quickly: "It's taken an extremely long time. The amount of money which the banks were profiteering on was enormous. This was almost a way of banks printing profits for themselves."
He welcomed the FSA's action and hopes the regulator will take tough actions against any bank which acts against the interests of its customers: "I think they need to do more of this. I think they need to get underneath the behaviour of the banks. They have a duty to their customers to act openly, transparently and honestly."
Santander, RBS/NatWest, Barclays and HSBC have all had business partnerships with CPP during the period the FSA investigated. They all said they were in discussions with the FSA over the issue.
However, the fine from the FSA does not include this and only relates to the hundreds of thousands of direct sales by CPP.
'Sorry'
New CPP chief executive Paul Stobart said the company had taken steps to overhaul its practices.
"We are deeply sorry for the errors and wrongdoings of the past and are paying a heavy penalty through what is a large fine," he said in a statement.
"The next steps for the team are to complete the transformation programme and to rebuild our business and our reputation in the market."
It has adhered to a FSA request to stop sales of the insurance products, unless they are part of a package. It has also stopped trying to retain the business of customers who ring to cancel their policies.
Customers who are on auto-renewal of the product now have a 60-day cooling off period to change their mind over buying the insurance, compared with a 14-day option previously.
Details about compensation for customers are still being discussed by CPP, some of its main business partners, and the FSA. Some customers will be written to by CPP.
The FSA has agreed to CPP paying the fine in instalments, owing to the company's financial position. It has been told to complete the payments by December 2014.