Greece: Eurozone ministers to make crunch decision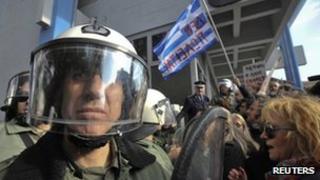 Eurozone finance ministers are meeting to decide whether to release the next 33bn euros ($42bn; £27bn) of bailout cash needed by Greece to stay afloat.
On the agenda is a two-year delay to Greece's austerity programme, how to meet the country's extra funding needs, and how to make its debts sustainable.
The International Monetary Fund, which is also at the meeting, insists Greece's debtload must be alleviated.
But Germany and the European Central Bank oppose writing off Greece's debts.
"Greece has delivered," Jean-Claude Juncker, chair of the Eurogroup of finance ministers, said ahead of the meeting, adding that there was a good chance they would reach an agreement.
The French Finance Minister Pierre Moscovici said that even if payment is approved, Greece was unlikely to actually receive any money before December.
Debt forgiveness
The EU has already accepted the need to give Athens two more years to get its overspending under control.
Spending cuts have added to the devastation of the Greek economy, which it was confirmed last week shrank a further 7.2% in the third quarter of 2012 from a year earlier.
The far-right Golden Dawn movement is on the rise - and is rumoured to have infiltrated the Greek police - and there are concerns that the country's pro-austerity government - a shaky coalition of right-wing and left-wing former adversary parties - may fall apart.
However, giving Greece more time inevitably means that the government will also be borrowing more for longer.
Athens is supposed to cut its total debtload to 120% of annual economic output by 2020 under the current bailout programme.
Some eurozone ministers appear to want to postpone this deadline by two years, but the IMF opposes this, believing that the 2020 deadline must be retained if it is to deem Greece's debts "sustainable".
The Fund is not allowed to lend to a country that it deems incapable of repaying its debts.
Yet it is unclear what Greece can do to cut its debtload.
According to Mr Moscovici, the question of Greece's debt sustainability was unlikely to be resolved at the meeting, and would be the subject of a further round of talks.
As a precondition to its current, second bailout package, Greece has already negotiated with its private sector lenders a write-off of three-quarters of the value of what it owed them.
There has been talk of a similar write-off of what Greece owes its official lenders - including the ECB and the eurozone's bailout funds - but almost certainly not the IMF.
Crisis jargon buster
Use the dropdown for easy-to-understand explanations of key financial terms:
AAA-rating
The best credit rating that can be given to a borrower's debts, indicating that the risk of borrowing defaulting is minuscule.
However, any such debt forgiveness has been fiercely resisted by the German government, who deems such a move politically untenable with German voters. Other governments are also strongly opposed.
The German finance minister has made clear that it could not permit any further lending to Greece if the country fails to honour its existing debts.
The ECB is also against cancelling the Greek debts it owns, something that it would consider "monetisation of government debt", which is forbidden by the central bank's constitution.
'Totally ready'
There are also a number of alternative ways of alleviating Greek debts that will be under consideration, including:
cutting the interest rate on Greece's existing bailout loans, and postponing repayment perhaps until 2032
finding a way of passing back to Greece the profits earned by the ECB on the Greek debts it has bought
a further write-off of what Greece owes private sector lenders, perhaps via the government buying back its debts at current depressed market prices
raising money from privatising state assets
It is unclear whether these four measures combined will do enough to convince the IMF that Greece's debts are viable in the long term.
For their part, the Greeks claim to have done everything required of them.
"There are no longer any pending issues on our side," Greek Finance Minister Yannis Stournaras said on Monday. "Greece is totally ready."
There are rumours in Athens that the government may reshuffle the cabinet following the eurozone finance ministers' meeting.
The centre-right Prime Minister Antonis Samaras has been holding meetings with the heads of his two left-wing coalition partners, Evangelos Venizelos of Pasok and Fotis Kouvelis of the Democratic Left.
The finance minister is expected to stay in place, but other jobs may be reallocated in order to help the coalition shore up support among members of parliament.
Pasok has had to expel six of its MPs after they rebelled in a vote last week on Greece's latest austerity budget, which was a pre-condition for the release of the new bailout money.
Recent polls have shown two-thirds of Greek voters disapprove of the government's performance.
December payout
If eurozone finance ministers and the IMF give a collective green light at the latest meeting, there will still be a number of hurdles to overcome.
The decision must be ratified by eurozone member state parliaments, a process not expected to be complete until 30 November.
The Greeks are also expected to be told they must first pass further reforms to liberalise their country's economy.
A final decision to release the funds may not come until 3 December, with the money only reaching Greece on 5 December.
As well as the 33bn euros from the bailout loan, Greece also hopes to receive 31bn euros of European aid from Brussels, which has also been held up while the EU, IMF and ECB decide the country's fate, although it is not expected to receive the full amount all in one go.
The Greeks have already agreed that the money will be put in a special "escrow" account at the Greek central bank, to ensure that it is used to repay the country's debts as a first priority - something insisted on by Germany.
The government will also formally audit the performance of its departments every three months to ensure they are meeting targets for spending cuts. Departments that fall behind will be placed under an administrator.
From 2014, departments will only be allowed to borrow for investment purposes, and only then with the finance ministry's approval.