Japan exports fall for fifth consecutive month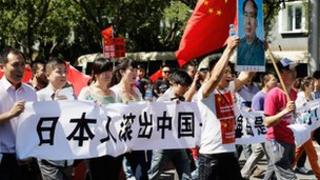 Japan's exports have fallen for a fifth straight month after demand in China and the European Union (EU) weakened.
Shipment's fell 6.5% in October, from a year earlier. Exports to China declined 11.6% and were down 20% to the EU.
A territorial dispute with China has dented sales to Japan's biggest trading partner, while the EU is being hurt by a continuing debt crisis.
Japan's economy is heavily reliant on exports and a slowdown would hurt growth.
Analysts said that given the uncertain global economic conditions, Japan's exports may continue to be weak in coming month.
"This is basically the new normal that we have to deal with, well into the next year," Martin Schulz of Fujitsu Research Institute told the BBC.
The data comes just weeks after Japan reported that its economy contracted in the July to September period.
China impact
China is the world's second-largest economy and has a huge domestic market that has become vital to many global and regional exporters.
Demand from its consumers is seen as key for countries such as Japan, especially in wake of a slowdown in the western economies.
However, relations between China and Japan have soured after a territorial dispute flared up in September.
It followed Japan's purchase of disputed islands in the East China Sea, known as Senkaku in Japan and Diaoyu in China.
The move led to widespread anti-Japan protests in China, which turned violent in some areas with people directing their anger at Japanese brands.
October's decline in exports followed a 14.1% drop in September.
Analysts said the row may continue to damage trade between the two countries.
"You can't expect China to drive Japanese exports the way it used to, because of the boycotting of Japanese products there due to a territorial dispute," said Takeshi Minami, chief economist at Norinchukin Research Institute in Tokyo.
'Out-competed'
Exports to the to EU, meanwhile, have now fallen for 13 straight months.
Analysts said that as well as the eurozone debt crisis, Japanese exporters were also hurt by the strength of the yen.
A strong yen makes Japanese goods more expensive to foreign buyers, and it gained nearly 7% against the US dollar between March and September this year.
Though the yen has weakened since then, it continues to remain at a level seen as too high by many businesses.
It was trading close to 81.89 yen against the US dollar in Asia trade on Wednesday.
"Japan is being out-competed by China, by South Korea and by its Asian neighbours," said Fujitsu Research Institute's Mr Schulz. "This is a problematic situation."