US economy 'to expand modestly'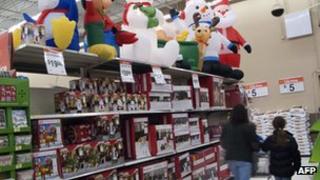 The US economy is going to expand modestly in the next few months, according to the latest data from the Conference Board.
Its leading indicator, which combines data from 10 other indicators, showed a 0.2% increase in October.
It followed a 0.5% increase in September and a 0.4% decline in August.
But the Conference Board warned its figures did not take full account of the effect of Hurricane Sandy or the outcome of the fiscal cliff debates.
"Hurricane Sandy, which is not yet fully reflected in the Leading Indicator, will likely adversely affect consumer spending and home building in the short term, but it's too soon to gauge the net impact," said Conference Board economist Ken Goldstein.
Another indicator released on Wednesday was the University of Michigan's consumer sentiment index for November.
The final figure came in at 82.7, which was down from the preliminary figure of 84.9 and barely changed from October's figure.