China manufacturing picks up pace, HSBC report suggests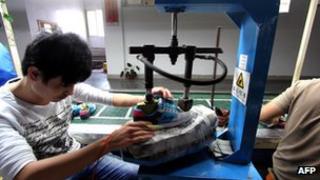 China's manufacturing activity expanded in November, according to a report by HSBC, the latest sign that its growth may be rebounding.
The bank's purchasing managers index (PMI) rose to 50.4.
A reading above 50 indicates expansion. This is the first time in 13 months the HSBC index has been above that level.
The latest data follows a rise in fixed asset investment, industrial production and retail sales in October, announced before China's leadership transition.
Qu Hongbin, chief China economist at HSBC said the expansion in manufacturing "confirms that the economic recovery continues to gain momentum towards the year-end".
Government response
China's manufacturing sector has been a key driver of its economic growth over the past few years.
However, the sector has been hit by a slowdown in demand for Chinese exports from its major markets - the US, eurozone and Japan.
That has hurt China's overall economic growth, which fell to a three-year low in the July-to-September quarter.
In response, the Chinese authorities have introduced various measures to revive growth.
The central bank has cut the amount of money that banks need to keep in reserve three times in the past few months to try and boost lending. It has also cut interest rates twice since June, to ease the burden of consumers and businesses.
The measures have had a positive impact, and there have been recent signs of a pick-up in China's economy.
However, some analysts warned that global economic conditions are still volatile and that China's policymakers need to continue to ease policies to support growth.
"It is still the early stage of recovery and global economic growth remains fragile," said Mr Qu of HSBC. "This calls for a continuation of policy easing to strengthen the recovery."