Sony and Panasonic ratings cut by Fitch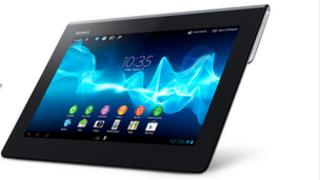 Tech firms Sony and Panasonic have had their credit ratings cut to the level of junk status for the first time.
The Fitch ratings agency pointed to their weak balance sheets and declining position in the global electronics sector, where both are struggling to compete with the likes of Samsung.
Fitch cut Sony's rating by three notches to BB- and Panasonic's by two notches to BB.
The rating means that it believes that both firms will default on their debt.
It gave both firms a negative outlook, confirming their debt was no longer considered safe and investment-grade. The ratings mean that Sony and Panasonic will have to pay much more to borrow now.
Fitch said its downgrade of Panasonic was due to its "weakened competitiveness in its core businesses, particularly in TVs and panels, as well as weak cash generation from operations".
It also cast doubt on Sony's prospects, saying a "meaningful recovery will be slow, given the company's loss of technology leadership in key products, high competition, weak economic conditions in developed markets and the strong yen".
Earlier this month, Fitch followed Standard & Poor's by cutting rival electronics giant Sharp's rating to junk.
Panasonic has warned it is on track for an annual loss of almost $10bn (£6.3bn), while Sony expects a small profit after four years of losses.