Eurozone output contracts again, PMI survey says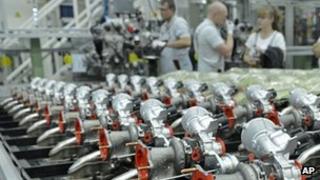 Business activity in the eurozone continued to contract in November, a survey suggests.
The Markit eurozone Purchasing Managers' Output Index was little changed from October, up to 45.8 from 45.7. A reading below 50 indicates contraction.
A sharper rate of decline in the services sector was offset by an easing of the contraction among manufacturers.
The survey also warned of a 0.5% drop in GDP in the fourth quarter.
Official figures released earlier this month showed that the eurozone economy contracted by 0.1% in the third quarter, between July and September.
"The PMI suggests that the downturn is set to gather pace significantly in the fourth quarter. The final three months of the year could see GDP fall by as much as 0.5%," Chris Williamson, chief economist at Markit said.
"The eurozone economy continued to deteriorate at an alarming pace in November, and is entrenched in the steepest downturn since mid-2009," he added.
Sentiment among services businesses fell to the lowest since March 2009, said Markit.
Firms also continued to cut employment at the second-fastest rate since January 2010.
ING economist Peter Vanden Houte said it looked like the manufacturing sector was "bottoming out", as the contraction was becoming less severe.
"On the contrary, if you look at the services sector, we see that the PMI continues to fall and is now at the lowest level since 2009 and this is a reflection of extremely weak domestic demand and with the budgetary austerity continuing in Europe for sure, domestic demand is going to remain negative in the near future," he said.
'Anxious'
Economists watch surveys such as the PMI closely, particularly because they give an indication of future business activity.
The amount of goods purchased for use in production, which indicates how much demand companies are expecting, fell steeply in November, Markit said.
"Firms have clearly become increasingly anxious about the economic outlook and are seeking to control costs as much as possible. All this suggests that any swift return to growth is unlikely," Markit said.
Although the rate of output decline eased in France and Germany, it remained "substantial", Markit said, especially in France.
Concern is focused on Germany's service sector, which is contracting at its fastest pace in three-and-a-half years.
Eurozone economies are struggling as governments focus on reducing debt levels following the financial crisis by cutting spending and increasing taxes, measures that are undermining growth.
European markets were generally positive, despite the disappointing outlook. They were reacting to more positive news on the state of the Chinese economy.
The purchasing managers index for China's manufacturing sector expanded in November, for the first time in more than a year.
The latest data follows a rise in fixed asset investment, industrial production and retail sales in October, announced before China's leadership transition.