Renesas shares rise 17% on $2.2bn bailout report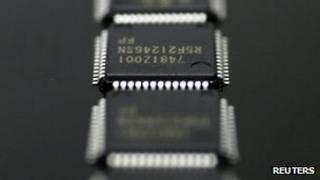 Shares of Japanese chipmaker Renesas have risen almost 17% after a report said that shareholders have accepted a bailout from a government-backed fund.
The Nikkei Daily said the fund will buy two-thirds of the struggling company for 180bn yen ($2.2bn; £1.4bn).
Major clients Toyota Motor, Nissan and six others will supply another 20bn yen, the newspaper said.
Renesas, which is a key supplier to Japanese carmakers, has seen demand decline in recent months.
The Nikkei said Innovation Network Corporation of Japan's buyout plan, which had been expected, would be announced in early December.
Renesas was formed after the consolidation of the chip divisions of major shareholders Mitsubishi Electric, Hitachi and NEC Corp.
It is now the biggest maker of microcontroller chips in the world, which are used mainly in cars.
Shifting production
However, the company is forecasting a net loss of 150bn yen for the financial year as competition intensifies from the likes of Samsung Electronics and others.
Earlier this year, Renesas announced a major restructuring plan which included cutting 5,000 jobs and shutting down some of its unprofitable plants.
Renesas has said it will move away from the production of system chips, used in televisions, mobile phones and personal computers, as sales fall.
Instead it is aiming to focus on developing more advanced microcontroller chips.