Britvic profits fall after Fruit Shoot recall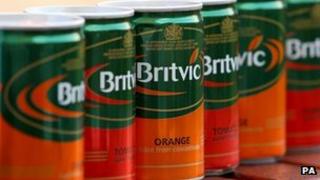 Soft drinks maker Britvic has reported a near 20% fall in profits after being hit by the cost of recalling newly designed Fruit Shoot bottles.
The firm - which earlier this month agreed to merge with Irn Bru maker AG Barr - reported profits of £84.4m in the year to 30 September, down from £105.1m a year earlier.
Britvic had to recall Fruit Shoot bottles in July over safety concerns.
The company said the recall had cost it £16.9m this year.
Britvic's other brands include Robinsons, J2O and Tango, and the company also sells PepsiCo brands in the UK and Republic of Ireland.
Total revenues at the firm were down 0.8% to £1.26bn.
As well as the recall, Britvic said that the cold, wet weather over the summer had also "weighed heavily on the soft drinks market".
However, the company said its fizzy drink brands, especially Pepsi, had "significantly outperformed the market".
Earlier this month, Britvic agreed to merge with AG Barr, creating a new company called Barr Britvic Soft Drinks.
The deal will leave Britvic shareholders with approximately 63% of the new company and AG Barr shareholders with 37%.
The current head of AG Barr, Roger White, will become chief executive of the new firm.