Argentina default on debt likely, says Fitch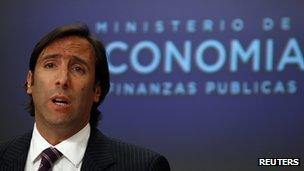 The ratings agency Fitch has said that Argentina, which is locked in a court battle in New York over its debt, will probably default on what it owes.
The nation is appealing against a US ruling ordering it to pay $1.3bn (£800m) to foreign creditors holding bonds that it defaulted on in 2001.
The government has until 15 December to reimburse the hedge funds, which shunned two previous debt swaps.
Fitch cut its long-term rating for Argentina by five notches to CC.
It also cut the short-term rating on Argentine debt to C, one step above default.
Argentina defaulted on $100bn of bonds in 2001, a record amount at the time.
But by 2003 a recovery was under way, and the International Monetary Fund (IMF) agreed to a new loan.
Since then, Argentina has restructured its massive debt twice, offering creditors new bonds for the defaulted ones.
These hedge funds have previously rejected exchanges of their defaulted debt in 2005 and 2010. If Argentina is forced to pay in full, other holders of debt totalling more than $11bn are expected to demand immediate payment as well.
Argentine Economy Minister Hernan Lorenzino has said it is illegitimate to pay "vulture funds" and President Cristina Fernandez de Kirchner said her government would not pay a single dollar.