Olam International refutes Muddy Waters claims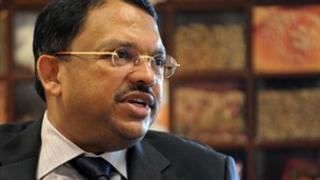 Singapore-based commodities firm Olam International has fought back in its escalating battle with US research company Muddy Waters.
Olam said it is not at risk of collapse and had enough liquidity to pursue its business and future investments.
Muddy Waters has questioned Olam's accounting practices and acquisitions, comparing it to collapsed firm Enron.
Olam says Muddy Waters wants to create "panic" among shareholders and profit from a drop in its share price.
Muddy Waters, founded by well-known short-seller Carson Block, first made allegations about what it saw as irregularities at Olam last week, adding that it was shorting the company's stock.
Short-selling is when investors identify assets that they believe are overvalued. They then borrow shares in that company, sell them and hope to buy them back at a cheaper price, keeping the profit.
On Wednesday, Olam continued its fightback against Muddy Waters after the US researcher published its long-anticipated report into the firm the previous day.
"Olam faces no risk of insolvency. We have proactively planned for an appropriate capital structure and raised the requisite equity and debt to meet our investment plans," it said in a posting to the Singapore stock exchange.
It added that accounting practices called into question by Muddy Waters were in line with Singapore standards.
Olam reiterated its stance on Wednesday that the report was aimed at creating investor panic and enabling "Carson Block and his associates to benefit from their short positions in Olam securities, a strategy of shouting fire in a crowded room".
Olam shares fell 6% on Tuesday, and were down 0.6% on Wednesday.
Olam, which is 16% owned by state-owned investor Temasek, has filed a libel suit in the Singapore Supreme Court.