Megafon raises $1.7bn in Moscow and London share sale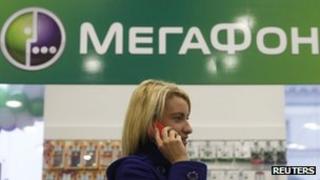 Megafon, the mobile phone operator controlled by Russia's richest man, has raised $1.7bn (£1.1bn) from a share sale in Moscow and London.
Pricing shares at the bottom of its $20-$25 range, the sale values Megafon at $11.1bn.
The listing is the biggest by a Russian company since aluminium producer Rusal raised $2.2bn in Hong Kong in 2010.
Russia's second biggest mobile operator is controlled by Alisher Usmanov, a 30% stakeholder in Arsenal football club.
The shares are listed in London as global depository receipts, which are issued by a bank that holds the shares on behalf of the investor.
'No flurry'
Analysts said the share sale had received a lukewarm reception from investors.
"Megafon is five years late with its [share sale] as the phase of active growth of the Russian telecoms market is already over," said Yevgeny Golosnoy, analyst at brokerage Metropol.
"Global investors are cautious because they need either a very low price or growth potential."
In lunchtime trading in London, Megafon shares were down almost 2%, while towards the end of trading in Moscow they were up about 1.5%.
Mr Usmanov has retained his controlling share, while Nordic telecoms group Teliasonera has reduced its stake from 36% to 29%.
There are 227 million mobile phone subscriptions in Russia, whose population is 144 million. This is because many people own more than one sim card.
At the end of last year, Megafon had 63 million subscribers, up 10% on 2010. It is the second-biggest mobile operator in Russia behind MTS.