Rugby's Noble art of winning gets Mickey Rourke assist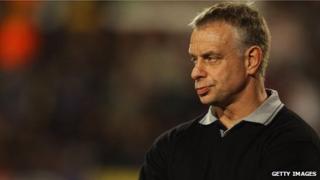 Hollywood actor Mickey Rourke is well known for his love of boxing, and also memorably played a washed-up wrestler, but less well-known is his rugby league connection.
The hell-raising star of films such as Diner and Angel Heart has now written a chapter for a new book by former Bradford and Great Britain rugby league coach Brian Noble about leadership.
Entitled Building Winning Teams, Noble has persuaded big names from the world of sport and business to put down their leadership ideas, and their recipes for financial or sporting success.
Businessmen giving their thoughts include supermarket magnate Sir Ken Morrison, JJB Sports tycoon Dave Whelan, and Jack Tordoff, owner of the JCT600 car sales chain.
Big names from sport include Sunderland boss Martin O'Neill, ex-England cricket captain Michael Vaughan, athlete Linford Christie, and Jason Robinson, Shaun Edwards, and Jonathan Davies from rugby.
Rugby advice
So how did Mickey Rourke get involved?
"I met him through [Welsh rugby player] Gareth Thomas, as Mickey was looking to make a film about Gareth, and needed some advice about rugby," says Mr Noble.
Thomas, who is now retired, played rugby league for Crusaders RL and rugby union for the Cardiff Blues and Wales.
He hit the headlines in December 2009 when he announced he was gay, making him the first openly gay professional rugby player.
Rourke was so impressed that he offered to play him in a biopic, but needed to learn more about rugby.
"I met Mickey in Cardiff and London," says Noble. "He wanted to know about technical aspects of rugby, such as handling the ball in the correct manner, and I helped him to write a production script.
"He is a great fellow and great company. He has also been through a lot in his life, so I asked if he would write a chapter for my book about conflict and handling criticism... and he has had to handle a lot of criticism over the years.
"But people who have been through adversity have got character, and a story to tell.... it resonates with people."
Teamwork and trust
Noble is the only coach to lead a club to three Super League Grand Final victories, with Bradford Bulls.
A former player, he also coached at Wigan Warriors and Crusaders, and led Great Britain for two years.
Since retiring from coaching in 2010, following a serious knee operation, he has delivered talks on leadership and says "it is surprising that the principles are extremely similar".
"I started scribbling down my thoughts about sport and business," he says.
He says he is examining themes such as teamwork, trust, and communications, which are equally important in sport and business.
"Then I had the idea of asking people to write for the book. As well as business leaders, it has sports people like Jonathan Davies talking about overcoming adversity, talking about playing the day after his wife died."
He says that as the book took shape it became clear that the same qualities of leadership are required in sport and business.
"One of the problems businesses face is that people in the organisation do not communicate," he says.
"And if you don't your message across - either as a business or sport team - then you won't succeed.
"Then there is trust, it is a core value for business and sport."
He also says business could learn from sportsmen and women about living under constant pressure.
"In sport the performance indicator is there every week, even someone as strong as Martin O'Neill - with his experience and successful background - is under pressure, from club, media, fans, if he loses three games on the bounce.
"The amount of scrutiny on top level sport is extreme, and being at your best every day is a requirement."
'Common sense'
Noble says business people can also learn from the experiences of someone like Rory McIlroy, who bounced back from throwing away the US Masters in 2011 to win the US Open a few months later.
"He butchered his chances in that last Masters round, yet was able to come back and be a winner," he says.
Meanwhile, he says sport can learn from the good organisation to be found in business.
"Sport is a business and has to be treated as such," he adds.
"You get some people in sport who own clubs, but are actually rabid fans who then lose their common sense and make the wrong decisions."
Business people Noble admires include northern entrepreneurs Morrison, Whelan, and Tordoff, as well as the late Steve Jobs and Jim Collins in the US. "They all had a dream," he says.
He says it pained him to see former club Bradford Bulls hit financial problems earlier this year.
"The good news is that there was a way forward out of it all. The alternative was not to have had a rugby league club, which would have been a disaster for the city of Bradford."
Sporting 'fellowship'
He says that some of his happiest, as well as most successful times came at Bradford, where he saw teamwork off the field transformed into playing success.
"Success at the top level is also about fellowship," he says.
"When I was at Bradford, everyone - the stadium cleaner, programme seller, marketing people - were all behind us.
"We were all together, there were no boundaries. When we went onto the pitch we were taking 20,000 fans and the workforce with us."
As well as success at Bradford, other high points were getting what was considered "no hope" team Crusaders into the play-offs, and "beating Australia in Sydney, in front of thousands of their fans".
Now he is looking forward to next year's Rugby League World Cup.
"It will be a brilliant tournament. England have got a good team and have a genuine chance. And there will be some shock results too.
"I would urge people to get out and watch it."