Anglo Irish Bank in legal action against Ernst & Young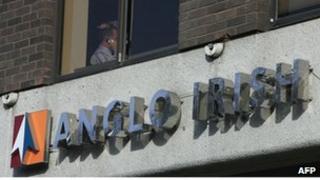 Anglo Irish Bank is taking legal action against its former auditor Ernst & Young for failing to spot the lender's massive exposure to the Irish property bubble.
Anglo suffered the largest corporate loss in the history of the country when the bubble burst.
Ernst & Young said it would "vigorously defend" itself against the claims.
It is the first time that an Irish bank has sued an ex-auditor over its conduct in the run-up to the financial crisis.
The bank, based in the Republic of Ireland, said it took the legal action against Ernst & Young on Tuesday, in proceedings that "relate to the role of Ernst & Young as auditors to Anglo Irish Bank Plc pre-nationalisation".
Ernst & Young audited the lender's books in the years leading up to the financial crisis and the 2009 nationalisation, which cost Irish taxpayers more than £20bn. The bank's affairs were taken over by the Irish Bank Resolution Corporation.
Ernst & Young said it was aware of Anglo Irish's proceedings but that it had not yet received an official statement detailing the bank's allegations.
"Without more detail it is difficult for us to comment further. We have consistently said we stand by the quality of our work performed in the Anglo audit and will vigorously defend any such proceedings," the auditing firm said in a statement.