Japan cabinet approves $10.7bn second stimulus package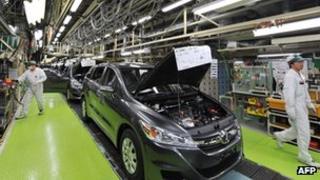 Japanese lawmakers approved another stimulus package to revive growth, as the flagging economy becomes a key issue in the upcoming general election.
The money, totalling 880bn yen ($10.7bn; £6.7bn), will be used mainly to create employment and support small businesses, the cabinet said.
New data out for October showed industrial output rising, but few other positive indicators.
Analysts said the stimulus is unlikely to improve economic conditions.
"The total size is not enough to really boost gross domestic product, especially for early next year," said Junko Nishioka from RBS Japan Securities. "It is not enough to change the mood of business activity."
Japan's economy contracted in the July to September quarter by 0.9% compared with the previous three months.
The contraction is equivalent to an annualised drop in GDP of 3.5%.
Bottom out?
Politicians, ahead of the 16 December vote, have been calling for more action from the Bank of Japan to end deflation.
Core consumer prices were flat in October, data out Friday showed. That is well off the central bank's target of 1%.
Analysts say stagnant or falling prices discourages consumer spending, a major driver of growth.
The only positive set of data came from the industrial output figures which showed a 1.8% rise. Analysts were expecting a fall of 2.2%.
That lead some to predict the economy may have hit its lowest point and could start recovering.
"Taken together with steady forecast for November and December, the data showed that the economy is likely to have bottomed out earlier than expected," said Tatsushi Shikano, from Mitsubishi UFJ Morgan Stanley Securities in Tokyo.