Technology dominates the Los Angeles motor show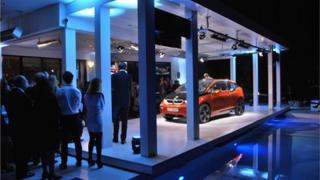 With its hillside pool, soft designer furniture and chillout music pumping from the speakers, the party in the Beverly Hills mansion is full of promise.
But the evening is not about rubbing shoulders with Hollywood celebrities.
Instead, the guest of honour is a car - one that has been designed to capture the mood of the moment.
"Our idea is to combine premium with sustainability," says Benoit Jacob, head of design for BMW Group's new sub-brand "i".
"We call it 'next premium'. We believe that for premium in the future, sustainability will be vital."
It is a message that resonates with Californians, who are already eager buyers of green technology, accounting for a third of all plug-in electric car sales and a quarter of petrol-electric hybrids.
"California is committed to sustainable mobility," agrees Mr Jacob. "And so are we."
Technology show
Californians buy about one in 10 cars sold in the US, so when automotive industry executives take in the view from Beverly Hills, what they see is a vast market for their products.
But the Golden State offers golden opportunities well beyond its borders. Consumers here are technology savvy, hungry for constant change, ready to push boundaries and widely seen as trend-setters by consumers across America, perhaps even the world.
No wonder, then, that carmakers from around the world are flocking to the Los Angeles motor show to showcase their latest technologies.
"In LA, particularly this year, the technology part of sustainability - such as alternative fuel or electric vehicles - is displayed by all the automakers," Mark Reuss, president of General Motors North America tells BBC News.
"Were doing it here because the culture of sustainability in LA and California is really part of how people are here. This is the market to do it in, to show it off."
'Young at heart'
California is also home to two of the most innovative entrepreneurs in the motor industry. Elon Musk, founder of the electric car company Tesla, and Henrik Fisker, who founded Fisker Automotive to make electric cars kitted out with petrol-powered range extenders, both came to California to start their companies.
And at this week's LA motor show there is a vast array of technologies on offer, including smaller cars with smaller petrol engines such Ford's three-cylinder Fiesta, or even diesel engines in modern-looking cars such as Volkswagen's new Beetle Cabriolet.
The latest electric cars on offer are also getting smaller, with Honda showing off an electric roadster, Fiat unveiling the 500e and General Motors launching the Spark.
"The other part of the LA show is California's youthful spirit, and there's enormous interest in the Spark from young people - or from people who are young at heart," says Mr Reuss.
Safety and convenience
Technology is not all about making cleaner and more efficient cars.
Increasingly, carmakers take a broader view to ensure the cars they make are also safer and more convenient to use, according to Jim Lentz, president and chief executive of Toyota Motor Sales USA."We will see new types of motoring," he says. "Every carmaker is dealing with this."
Amongst the most futuristic solutions at the show there is the "board of awesomeness", a skateboard that is controlled by hand gestures to trial how such technology could be used in cars, Mr Lentz says
Inside the car, hand movements could be used to, say, adjust the volume of the stereo, or cars could be programmed to recognise their owners who could open doors by waving at them or open them with a kick as in one of Ford's concepts.
As such, the technology could prove convenient, but it is also about safety, Mr Lentz says.
Hence, whereas drivers are increasingly expecting sophisticated connectivity systems in their cars, it is also essential that the industry "integrates and adapts in-car technology to minimise distraction", he says."One in six traffic deaths last year were attributed to distracted drivers," he says.
"So we must also do more to raise awareness about how important it is to keep the hands on the wheel and the eyes on the road."
The Los Angeles motor show is open to the public from 30 November until 9 December.