HBOS ex-chairman Lord Stevenson admits errors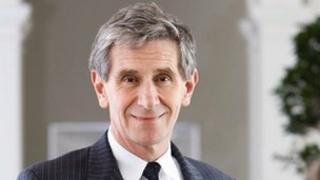 The ex-chairman of HBOS has admitted the bank took on too much risk in the run-up to the financial crisis in 2008.
In written evidence to the Parliamentary Commission on Banking Standards, Lord Stevenson also said the bank had become "over-exposed" to the property market.
He told the commission HBOS had failed to foresee the credit crunch, when banks stopped lending to each other.
As a result of the crunch, HBOS was taken over by Lloyds Banking Group.
"It is clear that, with the benefit of hindsight, the bank did become exposed to excessive levels of risk, particularly in the wholesale markets and the corporate division," Lord Stevenson wrote ahead of the hearing.
"In both cases, the true level of risk was not appreciated."
However, during the hearing on Wednesday he said the main reason for the bank's demise was the "unforeseen closure of the wholesale funding markets, which caused us to run out of liquidity". He added that "the rest of the world" had also failed to predict the credit crunch.
'Safe harbour'
The evidence is in stark contrast to a letter written by Lord Stevenson to the Financial Services Authority in March 2008, just months before the forced takeover by Lloyds.
He said the bank had decided in late 2007 to rein in lending, a policy that proved "a hard pill to swallow" for some executives at the bank.
"The bottom line is that, without wishing to be the slightest bit complacent, we feel that HBOS, in this particular storm and given its business characteristics, is in as a safe a harbour as is possible, while at the same time feeling commercially rather frustrated," he wrote in the letter dated 18 March.
Lord Stevenson was non-executive chairman of HBOS between 2001 and 2009.