Sir Philip Green 'to sell Topshop stake'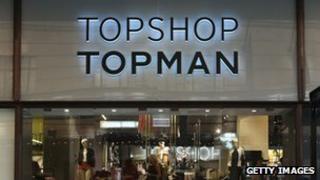 Retail magnate Sir Philip Green is in talks to sell off part of his Topshop chain to US investors, sources close to the deal have said.
The billionaire is looking to sell a stake of up to 25% of Topshop and Topman, the sources said.
The private equity owners of US retailer J Crew are being rumoured as the possible buyers.
Topshop is part of Sir Philip's Arcadia group, which also includes Miss Selfridge and BHS.
It is understood that these other stores will not be included in the deal, which values the Topshop and Topman brands at around £1bn and may be announced as early as this week.
Topshop has seen profits rise sharply as its affordable fashion, often designed in conjunction with high-profile designers, continues to prove popular with younger shoppers.
Sir Philip took over Arcadia Group, which employs 45,000 people, in 2002, paying £850m for the group after buying BHS for £200m two years earlier.
This year's Sunday Times Rich List estimated his family's fortune at £3.3bn.
J Crew is owned by US private equity firms Leonard Green & Partners and TPG Capital.