EU talks on banking supervision end without agreement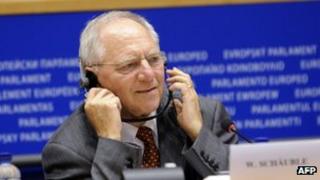 EU finance ministers have failed to reach agreement on setting up a single supervisor for eurozone banks after a meeting in Brussels.
Establishing a single supervisor under the European Central Bank (ECB) is seen as the first step in setting up a Europe-wide banking union.
But German and French ministers in particular clashed over the plans.
German Finance Minister Wolfgang Schauble raised concerns about the scope of ECB powers.
He warned that giving the ECB final say on the supervision of eurozone banks could compromise its independence.
Mr Schauble also reiterated his view that it was not reasonable to expect one institution to supervise all 6,000 European banks.
"It would be very difficult to get an approval from German parliament if [the deal] would leave the supervision for all the German banks to European banking supervision," Mr Schauble said.
"Nobody believes that any European institution would be capable of supervising 6,000 banks in Europe."
He also said there had to be a "Chinese wall" between supervision and monetary policy at the ECB.
His French counterpart Pierre Moscovici said the position of France was "steadfast" in support of the proposals.
Cypriot finance minister Vassos Shiarly, who chaired the meeting, called for another gathering to be held on December 12 in the hope of striking a deal.
EU officials are anxious that an agreement is reached before the end of the year.
The plans are seen as central to Europe's response to the eurozone debt crisis and global financial crisis.
"It is of primordial importance that an agreement be reached by the end of the year," said EU economic affairs commissioner Olli Rehn. "It is a test that Europe cannot afford to fail."