Samsung Electronics promotes chairman's son Jay Y. Lee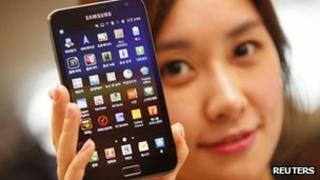 Samsung Electronics has promoted its chairman's son to vice chairman, amid increased scrutiny for South Korea's family conglomerates, or 'chaebols'.
The company, part of Samsung Group, said Jay Y. Lee's appointment was part of an annual reshuffle.
Samsung said the 44-year-old has contributed to the firm's explosive growth in the smartphone sector.
Mr Lee's father, Lee Kun Hee, has made Samsung Asia's biggest consumer electronics company.
Jay Lee was already chief operating officer and president at the firm.
"As Vice Chairman, Lee will build on his existing responsibilities and take a broader role in managing Samsung Electronics' businesses," Samsung said in a statement.
Mr Lee, 44, studied at Japan's Keio University and joined Samsung Electronics in 1991.
Samsung Group was founded in 1938 by Lee Byung-chull, Jay Lee's grandfather as a small trading company.
Samsung Electronics, which is the best performing part of the group is now the world's biggest seller of televisions, memory chips, flat screen and mobile phones. It recently overtook Apple in terms of smartphone sales.
However, Samsung and other family-owned conglomerates have been facing a backlash in South Korea over their dominance in a country where the wealth gap is widening.
Presidential candidates for the upcoming elections have pledged 'economic democratisation' in an effort to reign in the power of the chaebol's in the economy.