Business broadly welcomes Autumn Statement measures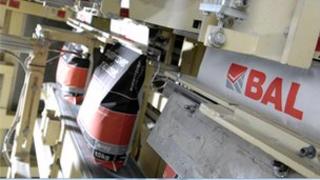 Businesses have broadly welcomed a raft of measures announced in the Autumn Statement, which include cutting corporation tax to 21% in April 2014.
Tax relief on plant and machinery will jump to £250,000 worth of investment from January, from the current level of £25,000.
The temporary doubling of the Small Business Rate relief will also be extended by another year to April 2014.
Other measures include the creation of a business bank.
"We're creating a new Business Bank and providing it with £1bn of extra capital which will lever in private lending to help small and medium-sized firms (SMEs) and bring together existing schemes," said Mr Osborne.
More details about how the bank will operate will be given later in December. A new £1.5bn export finance facility is also being launched "to support the purchase of British exports".
Businesses largely welcomed the measures, and other moves, such as the cancellation of the planned 3p per litre rise in petrol tax planned for January.
"I think he has done the best he could in the circumstances," said Nicki Sutherland, a director of Monkey Removals firm in Lincoln.
"I think it is really great he has cancelled the three pence fuel rise. We would have had to pass it on to our customers, so be scrapping it is good news for everyone.
"We are also very keen on the idea of a business bank and I look forward to more details on how central government will be helping channel funds towards small firms."
Alan Richardson is chief executive of Cambridge Consultants, which has premises in Cambridge - one of 12 cities where the government announced it would fund high-speed broadband.
"At first glance, this seems a really good idea," said Mr Richardson. He also welcomed government investment in science.
'Positive step'
David Shepherd is operations director at Building Adhesives Ltd (BAL) in Stoke-on-Trent, which makes glue and grouting for use in the construction industry. He said the plan to increase the investment relief on plant and machinery by tenfold was "a major positive step".
"This will allow businesses to invest plant and infrastructure, and it has the potential to get people spending and the economy flowing."
The business bank idea won the approval of Sam Cook, chief executive of Newhaven-based Prismaflex UK, an outdoor media specialist providing both digital and printed advertising and promotional materials.
However, he said there was a lack of details about how to access the bank's £1bn funds.
"I find that a little frustrating, especially after there had been such 'flag waving' and acknowledgement of SMEs during the chancellor's speech," said Mr Cook, who is president of business network, the Entrepreneurs Organisation.
"Eighty per cent of new jobs that have been created by small and medium sized businesses, and I feel we could still be given a bit more help."
UKTI expansion
Duncan Richardson, managing director of JDI Integrated Marketing, based in Woking, and Hammersmith, London. said the cuts in small business and corporation tax, and the cancellation of the 3p fuel duty increase was "most welcome and long overdue".
He also backed the announcement to increase the presence of UKTI - the body which looks to win business overseas for UK firms - abroad.
But he felt there was not enough commitment to get banks to support the SME sector. "This is where the chancellor's statement fell short," Mr Richardson said.
For Dermot Costello, tax partner at Cox Costello & Horne accountants, based in Rickmansworth, there were positives and negatives.
He said he felt "the chancellor has missed the opportunity to tackle large-scale corporation tax avoidance by multinationals".
"Whilst HMRC is employing increasingly confrontational tactics with smaller businesses, it seems content with maintaining the status quo that has resulted in global and UK companies being able to avoid VAT and corporation tax on their sales and profits."
But he said the further reduction in corporation tax rates to 21%, was welcome and could signal an alignment of the smaller and larger company corporation tax rates from 2015.
Exports
Countryside Art, of Spilsby, Lincolnshire, produces tea towels, kitchen textiles and gift bags.
It has just invested in new machinery to meet growing demand for its products in France, Iceland and Spain, and has set up a French language website with help from UKTI.
Cath Brookes, who runs the firm with her brother, said she welcomed the measures designed to boost UK exports.
"It is a major step to take to try to sell your products abroad, so it is good to have any support you can," she said.
Meanwhile, Jonathan Hufford, managing director of spread betting website Spreadex, said the chancellor "could have provided some incentives, in the form of tax breaks, for firms to take on high-quality, well-qualified graduates and for taking on interns, to increase their employability post formal education".