EADS: Germany acquires stake as part of overhaul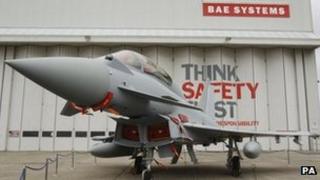 Germany is set to join France and Spain as a direct shareholder in EADS under new plans unveiled by the European aerospace and defence firm.
EADS announced that Germany and France will eventually hold equal stakes of about 12%, with Spain at 4%.
It said this allows the countries to "protect their strategic interests".
Under the terms of the agreement, current shareholders German carmaker Daimler and French media firm Lagardere will reduce their stakes.
"Today is a good day for EADS! We are making a big leap forward in terms of governance, actually the most important change since the creation of our company more than 12 years ago," said Tom Enders, chief executive of EADS.
It also gives EADS "the freedom of movement it needs to pursue its development", he added.
Earlier this year, a planned $45bn merger of EADS and the UK's BAE Systems fell through after the UK, French and German governments failed to overcome political objections.
The UK wanted its counterparts to agree to limit their influence in the merged firm in order to maintain BAE's strong working relations with the US Pentagon, while the BBC understood that Germany was fundamentally opposed to the deal.
Germany is not a direct shareholder in EADS, but exerted influence through Daimler.
Under the terms of the deal, Daimler will cut its stake by up to 7.44% of the share capital and Germany - through its investment arm KfW - will buy 2.76% of that disposal. KfW will also acquire the 7.44% of EADS held by a consortium called Dedalus.
The overhaul will also bring new controls on EADS' technology.
"Certain specific French and German national security interests will be protected through the creation of 'national defence companies' holding sensitive military assets, and including the rights of France and Germany to consent to three outside directors to the board of their respective 'national defence companies'," EADS said.