LG Electronics to appeal EU price-fixing fine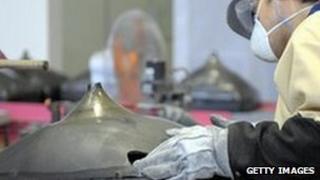 LG Electronics has said that it will appeal the fine imposed on it by the European Commission for price fixing.
The South Korean firm is among a number of manufacturers that have been accused of fixing prices of TV and computer monitor cathode-ray tubes.
On Wednesday, the regulator levied a fine of 491.5m euro ($640m; £400m) on LG, as part of an overall penalty of 1.47bn euro on the manufacturers.
However, LG said the fines were unfair and discriminatory.
'Disagrees'
The regulator has fined LG not only for its operations, but has also held it accountable for the actions of the joint venture that it established with Philips in 2001.
LG has claimed that the venture, LG Philips Displays, operated independently and that LG Electronics should not be held accountable for decisions made by the joint entity.
The venture went bankrupt in 2006.
"Other leading competition authorities, including the Korean Fair Trade Commission, the US Department of Justice and the Canadian Competition Bureau have investigated the same facts and concluded that LG Electronics should not be held liable for the conduct of LG Philips Displays," said John Kwon, executive vice president of LG Electronics.
The South Korea firm added that it also "disagrees with the European Commission's calculation" of the amount of fine imposed on it.
It said that it was concerned that the regulator had calculated the fine based of the number of TV sets and PC monitors sold by LG Electronics in Europe rather than the sales of just cathode ray tubes.
"LG Electronics objects to this approach as there is no evidence that such sales... were affected by the alleged infringement investigated by the Commission," the firm said in an emailed statement.
Other manufacturers that have been fined included Panasonic, Samsung, Toshiba, and Technicolor.