Viewpoint: The transparent supply chain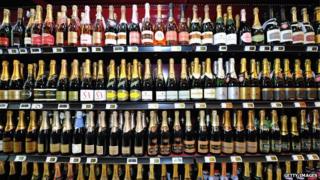 As we are all busy clicking, collecting, shopping and dropping, how often do you spare a thought for the long journey the goods you are buying have taken to get to you?
The "supply chain" describes the journey products and materials make long before they reach the shelves.
It involves all processes from getting material or produce out of the ground, processing it into product, distributing it to customers and finally returning the product to the ground in a sustainable way.
Technology impacts each element of the supply chain from distribution to getting the product back into the ground.
Our new year bottle of champagne, for example, will involve:
the agricultural supply chain of growing grapes
pressing grapes
using the grape skins to create alternative gas sources
The glass supply chain is required for the bottles. Corks, labels and the metal to hold the cork also needs to be sourced and produced.
We then need to move our bottle of champagne from vineyard to supermarket, to your home and finally once drunk the bottle may be recycled and the process continues again.
Considered consumption
An increasing group of consumers, labelled the "compassionate consumer", want to change how supply chains are structured.
The compassionate consumer considers the full effects of buying something, including the values and practices of the company from which items are purchased, the social impact of items being bought, and who benefits when items are obtained from a particular business.
They ask questions about the impact of their purchasing decision on the planet, the people working in the extended supply chain and ultimately who profits.
As global communication technology evolves, consumers have clearer insights into an organisation's supply chain.
Apple, for example, publishes an annual supplier responsibility report, freely available to download.
Their own audits in recent years have revealed cases of child labour, and also poisoning of workers due to inappropriate practices within Apple suppliers.
How does the compassionate consumer view such indiscretions?
Running short
The severe pressure on resources where many raw materials are in short supply is also driving change.
Oil is starting to run short, so prices will keep rising. Money is tight, so organisations can't afford new machinery or large inventories.
Lack of space and skilled manpower can also be a major constraint. Even water is a scarce and under-appreciated resource.
Technology helps us to innovate and adapt to this new world, but also centuries-old approaches come back into fashion.
One solution is to rethink the way we use resources. Instead of the "consumption" model - buy something, use it, throw it away, do we need a more sustainable model where resources are borrowed, shared or rented?
Questioning ownership provides challenges for us all.
Does every household need its own lawnmower? Does every company need its own warehouse, factory and vehicle fleet? Or could asset-sharing and collaborative working increase efficiency and reduce wastage and transport utilisation?
This is driving the technology of the supply chain. The critical focus is collaboration and transparency.
Supply chain transparency technology enables all those within the supply chain network to see and know where resources are, if a "supply chain event" occurs.
This could be triggered by commercial needs such as a buy-one-get-one-free promotion - or even by a natural disaster.
All members of the supply chain network are alerted. This critically allows the supply chain network, like a complex ecosystem, to plan collaboratively and respond to changes quickly.
Mobile technology with location services lets people know where people or objects are.
This technology also means you can know the actual location of a vehicle in real time, so for a home delivery a customer can track the order being delivered, or receive an automatic alert when the vehicle with their package is within a certain radius.
On a larger scale, container ships and even individual containers can now be tracked, letting companies plan their supply chain more effectively.
Making waves
Our personal decisions can impact planet, people and profit.
Research has shown that for non-food items, a consumer who becomes the last part of the supply chain by taking a product home after buying it in a store typically creates 4,274g of carbon dioxide.
However a van that delivers the item to your house as part of its round only generates 181 grams of carbon dioxide per item delivered.
The reality is even if you are not at home, the van could re-deliver 20 times before the same level of carbon dioxide is created.
So for the planet it would seem to be best to buy online. But is it best for the people in our local community working in shops? And who ultimately in this new world really profits?
Richard Wilding is full professor and chair of supply chain strategy at Cranfield School of Management. He is also author of the free iTunesU course Supply Chain Management & Logistics: An introduction to principles and concepts.