Netflix rebuked for Facebook post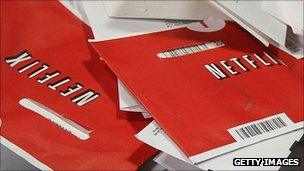 US regulators have threatened the head of Netflix with legal action for posting information about the company's performance on Facebook rather than through official channels.
Netflix chief executive Reed Hastings announced on the site that monthly viewing figures had passed one billion hours in June for the first time.
Shares rose after the posting.
The US Security and Exchange Commission (SEC) said it should have been disclosed via conventional channels.
These include a press release or regulatory filing in order to give "full and fair" public disclosure of any "material" information affecting the value of shareholders' investment.
Netflix has been sent what is known as a Wells Notice from the SEC.
This means staff will recommend that the full commission ask either for a cease-and-desist action and/or a civil injunction against both Netflix and Mr Hastings over the alleged violation.
Mr Hastings, said he did not believe the posting constituted the kind of information that needed to be released in that way.
Netflix's Facebook page has more than 244,000 subscribers to the page.
Mr Hastings denied that posting the information on Facebook did not constitute correct public disclosure.
"We think posting to over 200,000 people is very public, especially because many of my subscribers are reporters and bloggers," he said.
He also said the information on the viewing hours was not, in any case, "material" information.
The day before Mr Hasting's post Netflix's share price was $67.85, three days later it had risen to $81.72.
One securities analyst, Michael Pachter, from Wedbush Securities said: "It's totally disingenuous to say that his statement wasn't material when the stock went from under $70 a share to more than $80 and the only data point was that post."
Some commentators say this raises questions about whether the rules need to be adapted to keep up with companies' use of social media.
If the SEC decides to penalise the company, it could be facing a fine.
Related Internet Links
The BBC is not responsible for the content of external sites.