Luton Vauxhall jobs: 117 staff go in single shift move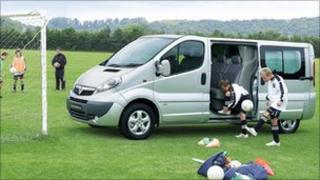 More than 100 workers at the Vauxhall van plant in Bedfordshire could lose their jobs in a restructure.
The workforce has voted in favour of a move to a single shift to keep production at Luton as markets in mainland Europe decline.
Severance, including early retirement, is to be offered to 117 workers.
A new design for the Vivaro van is to be produced in 2014, £95m invested in new equipment and apprenticeships boosted, in a deal agreed with unions.
Proposals came from negotiations with the Unite union and were accepted by the workforce in a vote.
The new arrangements will begin on 1 January 2013.
A statement said the new arrangements are designed for "stability by matching supply and demand".
They would also "ensure Luton plant's sustainable future ... by bridging the current downturn in mainland Europe", the company said.
The plant will recruit more than 100 new staff to support the launch of the new Vivavro model in the second quarter of 2014 and some of them will be apprentices.
Vauxhall aims to market about 40% of production in the UK.