Broadband blackspots: The quest to improve the UK's coverage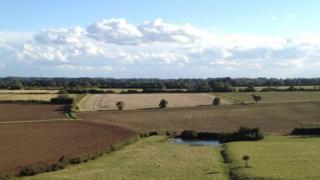 The coalition government has pledged to expand broadband connectivity to homes and businesses in remote areas of the UK by 2015 - although some innovative solutions are already plugging the gap.
If you are reading this on a desktop computer, a tablet or a smartphone consider yourself lucky. There are some people in the UK for whom reliable internet access - of any sort - is a distant dream.
Take Lucy's Tea Rooms in the picture postcard village of Burnham Market in Norfolk. Nestled amid a number of alluring shops and pubs near the village green, it is a nice spot for a drink or a sandwich - but web access is incredibly difficult to get. Lucy's is, you might say, a non-internet cafe.
"It tends to be when you're in the middle of an important thing, like filing your VAT online or paying your wages online, that's when it tends to freeze or crash on you," says owner Paul Bowness, wincing as his web browser once again throws up an error message.
As more and more of our ordinary tasks and daily lives shift online, slow speeds are damaging the minority of British businesses, mostly in rural areas, that cannot access the web.
"There are large parts of Norfolk where we don't have mains sewerage, or mains gas," says Karen O'Kane, programme director of the local council-backed Better Broadband for Norfolk campaign.
"But if you ask people which of these three things they'd rather have - broadband, sewerage or gas - they'd say broadband."
Government pledge
In a recognition of how important the issue is, the coalition government has pledged £530m to expand broadband access in remote areas.
The government's ultimate goal is that nearly all homes and businesses in the UK will be able to get a speed of at least two megabits per second (Mbps) by 2015.
To put it in context, that is slightly faster than the minimum speed needed to watch streaming TV on a computer via the BBC iPlayer.
Furthermore, 90% of the UK will be able to access superfast broadband - which under the government's definition is at least 24Mbps.
Higher speeds will allow things like high-definition video conferencing and very large file transfers, along with a host of other applications.
Serial entrepreneur David Cleevely, founding director of the Centre for Science and Policy at Cambridge University, says the more connected businesses get, the more the demand for reliable internet speeds grows.
"If you're a farmer, you probably aren't just growing wheat or herding cows. You probably have a series of things that you're adding on to that," Cleevely explains, speaking to Radio 4's In Business programme.
"Most farmers these days have additional businesses… all of that you can do much more efficiently and effectively if you have decent broadband."
Church service
For some small businesses without internet access, the government's 2015 goal seems a long way off.
However, a number of different technologies are partly filling the gap - BT's Openreach division and Virgin Media are running experiments that use things like wireless signals and parts of the television spectrum to provide access.
In Norfolk, one innovative local scheme uses wireless signals beamed from Norwich Cathedral, picked up by parish churches and then delivered through the air to local homes and businesses.
The WiSpire project is a partnership between local internet service provider Freeclix and the Diocese of Norwich.
"It enables businesses to thrive in areas in which they were once suffering," says WiSpire's Robert George, "and it encourages businesses to start in areas where perhaps before they wouldn't consider because of the poor connectivity."
WiSpire is already in use in villages dotted around the county, and it hopes to be able to offer its service throughout Norfolk next year - businesses already using it say it is a lifeline in remote places.
"We had a very antiquated system which just about kept us going, but we were very pessimistic about our future in this locality," says Andrew Lawrence, whose family business owns several petrol stations.
He now uses Wispire's service of up to 8Mbps, beamed from the steeple of St Mary the Virgin church to the village of Beeston-next-Mileham.
"We're now able to cut down a lot of time where we had to gather information on site and bring it back here. Now we just dial in and it's done in a flash," Lawrence says.
"So time and money is saved by having proper internet."
The WiSpire project provides much faster connections than are normally available in many Norfolk villages, but it is not classified as "superfast" - and thus will not qualify for public funds under the government's scheme.
Higher speeds
In practice, most of the money - which includes £300m the BBC has agreed to provide from the licence fee - will be used to subsidise the rollout of high-speed fibre optic cable through grants and matching funds from local councils.
And for a glimpse of what the future could be like, look west to Cornwall. Long thought of as isolated and poorly connected, some parts of the county now enjoy some of the highest broadband speeds in the country because of an EU-backed project to expand the fibre network.
Local businessman Toby Parkins says his software development business has been able to expand significantly since its offices were connected to the new fibre spine.
"In the past two years, since we've had fibre broadband, our business has grown 10 times in terms of turnover," he says.
"We're approaching 40 members of staff, up from having just five staff two years ago. Things have really been accelerating."
Parkins first started his business more than 10 years ago, but the new high-speed connection means he has been able to secure contracts with top telecoms companies around the world - all from an office that looks out onto the Atlantic, in the north Cornwall village of St Agnes.
Distance is no longer a barrier, he says, and high-speed internet has allowed local businesses in St Agnes to think about location in entirely new ways.
"We're 270 miles from London," he says, "but I've just done a speed test, and we're only about 20 milliseconds away."
Hear the full report on In Business on BBC Radio 4 on Thursday, 13 December at 20:30 GMT and Sunday, 16 December at 21:30 GMT. Listen again via the Radio 4 website or the World of Business podcast.