Pizza Hut Delivery to open 100 new stores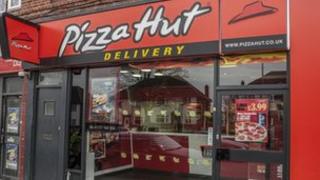 Pizza Hut Delivery is to open at least 100 new stores across the UK by 2014 in a move backed by investment of £20m.
The company, a subsidiary of US food giant Yum Brands, said the "aggressive expansion plan" would create up to 2,000 jobs.
Pizza Hut Delivery, which uses a franchise model, said both existing and new franchisees would get financial support to open new stores.
It currently has 300 UK stores, both franchise and company owned.
Spokesman Mark Fox said: "We are committed to delivering a major investment in growing our UK system, creating significant new opportunities for existing and would-be franchisees.
"Our investment will increase our marketing spend, drive the outlet numbers and visibility of Pizza Hut Delivery, and create opportunities for franchisees to grow their businesses quickly."
Pizza Hut Delivery added that its long-term aim was to have 700 outlets across the UK. The business is run separately to the 330 dine-in Pizza Hut restaurants in the UK, which last month were bought by investment firm Rutland Partners.