Christmas gifts warning from insurers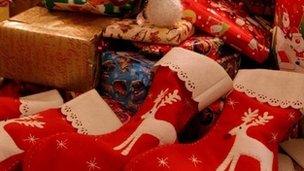 Insurers have urged householders to keep Christmas gifts secure after dealing with claims totalling £35m in the UK last December.
The Association of British Insurers (ABI) said that insurers received 23,000 burglary claims during the month in 2011.
Cars with gifts on view and homes left unattended during the holiday season are common targets for thieves.
Crowded shopping centres were also a prime spot for thieves, the ABI said.
It has urged people to lock their property securely, even when only leaving the house for a few minutes. Gifts should not be left under a Christmas tree if this meant they were on full view from outside.
Other tips included putting out empty boxes from Christmas presents on recycling collection day, not before, after binding them together as flat as possible.
"Thieves love Christmas. They know that there are plenty of easy pickings to be had this time of year," said Malcolm Tarling, from the ABI.
"Being vigilant and taking a few common sense precautions can ensure that you do not remember this Christmas for the wrong reasons."
Related Internet Links
The BBC is not responsible for the content of external sites.