From Apple to polka dots, technology can help supply chains react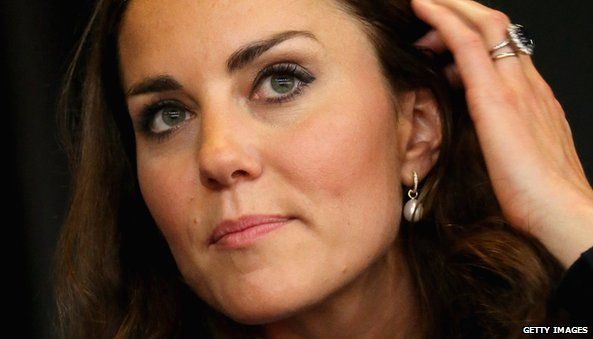 In recent months, worries over Apple's future have been reflected in the company's share price, which has begun to fall from the dizzying heights of just over $700 (£436) to around $500 today.
When chief executive Tim Cook took over at the helm of the world's biggest computer company, people worried whether he could offer the same charisma, appeal and passion of his predecessor, the late Steve Jobs.
But that's not why Mr Cook got the job.
Analysts say Apple's share price is falling not because people are beginning to dislike its products, but actually because of the opposite - Apple is struggling to make their products fast enough. As a supply chain guru, Mr Cook is well-placed to tackle that challenge.
"They're in the fashion business," says Paul Gray, director of European TV research at NPD Displaysearch.
"Time is money. You have to get in there and make your product very quickly before it becomes stale."
Mr Gray's specialism is in screen technology - a vital component in any modern device, particularly when it comes to sophisticated displays in use for smartphones and tablets.
He says that all companies, not just Apple, are getting nervous about where their supply chain weaknesses are.
That is, if one cog in the machine was to fall off or break, would the engine be able to keep running?
"Everybody had an enormous wake up call last year after the Japan earthquake," Mr Gray says, recalling what has become the most globally expensive natural disaster in history.
"People suddenly for the first time really started to consider risk properly."
Above all else, it led many companies to consider their flexibility and reaction speed.
Could they, if needs must, switch their source of manufacture overnight? If 1000 workers went on strike next week, would 1000 others be able to pick up tools somewhere else?
An ability to change systems in an instant became crucial, be it for natural disasters or other factors beyond their control, both good and bad.
When the Duchess of Cambridge unexpectedly wore a highly affordable polka dot dress, the high street chain she bought it from struggled to make the most of its golden opportunity.
"That dress sold out in an instant," recalls Craig Sears Black, managing director of Manhattan Associates, a firm that provides software to aid in flexible supply chain management.
"The shop could have sold 30,000 of those garments - but it had no idea that Kate Middleton would wear that dress.
The retailers and manufacturers who are smart at spotting those trends are the ones that will have greater profitability."
The shop missed its chance, Mr Sears Black says, because its supply chain was too inflexible. It was able to increase production, but by the time the product would have worked its way through the supply chain, the moment would have been lost.
Fashionistas would have already moved on.
"If they'd had at that point the ability to divert the manufacturing orders for that dress to accelerate them and then divert them to where the hotspots were, then they could have sold more."
Though in different industries, technology companies face similar pressures as the retailers of Kate's dress.
Last week, Apple's Mr Cook told NBC about his intention to shift assembly of some of Apple's Mac computers to the USA. The move was part PR, but also part necessity.
"If you are making products where you have seen huge spikes in demand, being able to suddenly turn the wick up and make things locally maybe saves you four, five or six days, that suddenly gets important," Mr Gray says.
He argues that China's image as being a place of sprawling factories of cheap, skilled labour is changing,
"What you're seeing in China is repeating history. You're seeing the growth of a trade union movement that happened in Britain from 1910 onwards.
"The number of people in China who actually want to go and work in dormitories is stable or declining. They're saying maybe it's not worth it anymore."
Faced with all these challenges, forward-thinking companies are using the latest technological techniques to not only deal with the problem - but to see it coming from afar.
Some companies, such as electrical supplier RS Components, monitor search trends on their website to assess whether a certain type of component is beginning to become more popular with small orders - normally a sign that engineers may be working on prototypes which could lead to a big order down the line.
Other firms, particularly in fashion, monitor social networks to gain a handle on what is creating buzz - gaining early insight on products that may be about to face the Kate Middleton-effect.
Crucial in surviving all of these unpredictable variables is the use of network design tools - software suites that can simulate what happens at the point of disaster.
"This helps when decisions need to be made in the next couple of days - maybe even the next couple of hours," explains Tim Payne, research director for Gartner analysts.
"The processing speed at which they can run through a plan or simulation can take seconds - rather than having to run it over night."
It means companies can take a highly-educated guess at how their decisions will immediately impact their supply chains - and their ability to meet their customer's demands.
"There is a compromise here between the precision of the plan," explains Mr Payne, "but you're doing it much much faster than before."
It means that should the Duchess of Cambridge's choice of dress turn a business upside down, it will at least be able to make the most of the royal seal of approval.