Iberia strike called off by unions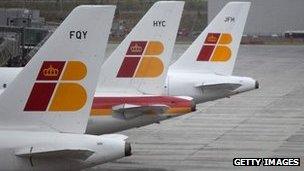 Unions at the Spanish national airline Iberia have called off strike action scheduled for the run-up to Christmas.
Unions representing ground staff and cabin crew had planned six days of stoppages between 14 and 21 December in protest at planned job cuts.
The strikes have been cancelled to avoid disruption over the Christmas period, the unions said.
But they said no agreement with Iberia had been reached, leaving the door open for fresh action from January.
"We've decided to call off the strike because of the dates and because we don't want to harm passengers," a spokesman for the Union Sindical Obrera (USO) told Reuters.
"Until January, depending on whether disagreements persist, we will study new actions."
Iberia's management issued a statement welcoming the move as the "first step on the road to necessary dialogue".
Iberia is part of the loss-making International Airlines Group (IAG), along with British Airways.
In November IAG announced plans to cut 4,500 jobs at Iberia - about a quarter of the workforce.
It is also planning to cut the number of routes it operates and cut pay by between a quarter and a third in an effort to stem losses and remain competitive.
Previously unions said they were willing to compromise on wage cuts but not outright job losses.
Related Internet Links
The BBC is not responsible for the content of external sites.