Cathay Pacific cabin crew vote for industrial action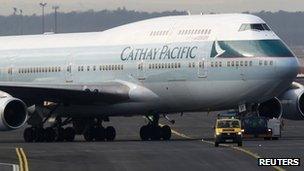 Cathay Pacific's cabin crew have voted in favour of an industrial action after their salary negotiations with the Hong Kong-based carrier broke down.
The Flight Attendant's Union (FAU) said it may implement work-to-rule measures to begin with, which could limit the services offered to passengers.
However, it warned that if the airline did not resume negotiations, it may proceed on a full strike.
Cathay has said it will only negotiate if the threat of a strike is withdrawn.
The FAU has been demanding a 5% increase in salary for employees from next year.
However, the airline has offered a 2% rise.
Dora Lei, chairwoman of the FAU said that if the airline continues to disregard their demands "then we have no choice but to declare a strike at the appropriate time if needed".
Cathay Pacific said it was disappointed with the union's decision to approve the industrial action.
"In the last week, we've already written to the FAU chairlady, telling her we are open for discussion on other subjects provided the threat of industrial action is taken away," said Lisa Ng, Cathay's cabin crew general manager.
"We believe that the passengers should not be inconvenienced and there should not be unnecessary pressure on other colleagues."