Government plans target cut in bogus car whiplash claims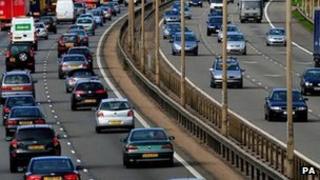 Ministers have unveiled plans to reduce the number of whiplash claims in England and Wales, which have been blamed for rising car insurance rates.
Justice Secretary Chris Grayling will launch a consultation on making it easier for insurers to challenge such claims following traffic accidents.
Independent medical panels could assess the validity of whiplash cases.
Mr Grayling said honest drivers had been paying for a system open to abuse from fraudsters for too long.
Accident decrease
Under the government's plans, the medical panels would aim to ensure that real cases went ahead but exaggerated, misrepresented or fraudulent ones were robustly challenged.
The panels would be unconnected to the claimant or claims management companies.
More whiplash cases could also be challenged in the small claims court, making it easier for insurers because they would not have to pay a successful claimant's costs.
The government said it was taking action after figures showed there had been a 60% increase in personal injury claims relating to road accidents since 2006, despite a 20% fall in reported accidents.
There are estimated to be about 1,500 whiplash claims made in the UK every day.
Insurers say that whiplash claims cost them £2bn a year, equivalent to £90 per vehicle policy.
Mr Grayling said: "For too long, honest drivers have been bearing the price of a system that has been open to abuse and it is time for that to change.
"We are proposing action to support effective whiplash diagnosis by medical experts and to simplify procedures which will help bring speculative or fraudulent claims before a judge - so genuine claims can still be settled but fraudsters are left in no doubt there will be no more easy paydays."
'Footing the bill'
James Dalton, head of motor and liability at the Association of British Insurers, welcomed government action over what he called "the UK's whiplash epidemic".
He said: "For too long, whiplash has been seen as the 'fraud of choice'. Our roads are safer, yet every day over 1,500 whiplash claims are made.
"More effective diagnosis of whiplash will help genuine claimants get paid out quickly and reduce the scope for fraud, so helping to ensure that honest motorists do not end up footing the bill for the cheats through higher insurance premiums."
The consultation is part of a series of measures by ministers aimed at cutting legal costs and halting the growth of compensation claims in England and Wales.
Law changes coming into effect in April 2013 include rebalancing no-win no-fee deals so losing defendants will no longer have to pay a fee to the claimant's lawyer.
They also include banning "referral fees" where companies can profit from selling on someone's personal injury claim and stopping claims management companies from offering money or goods as an inducement to make a claim through them.
The government said the insurance industry had committed to passing savings made from the changes on to consumers.