Richard Branson 'offered knee in the groin' by Willie Walsh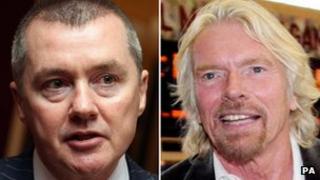 Willie Walsh has wagered a "knee in the groin" in a bet with Sir Richard Branson that the Virgin brand will still be around in five years.
On Monday, Sir Richard offered a £1m bet to the boss of BA-owner International Airlines Group (IAG) over the future of his Virgin airline.
Mr Walsh said he did not have £1m, so wagered something "as painful to him as it might be to me" instead.
He also questioned Sir Richard's influence on the airline industry.
Mr Walsh said the £1m would be unfair, as Sir Richard was a "billionaire banker", according to The Guardian and Telegraph newspapers who spoke to the airline boss in South Korea.
"I don't think £1m would hurt him," they reported the IAG boss as saying.
"I don't have £1m, so a knee in the groin, maybe - that would be as painful to him as it might be to me."
Mr Walsh then went on to question the impact Sir Richard has had on the industry.
"I just don't see that the guy has anything that stands out in terms of what he has achieved in the industry," he said, as reported by the Telegraph.
"I've said it publicly, I don't respect him in the way I respect other people in the industry, and that's a personal view."
'False rumours'
Sir Richard offered the £1m bet that Virgin would still be around in five years after Mr Walsh suggested the brand could soon disappear. This followed reports suggesting Sir Richard may sell some of his 51% stake.
"This is wishful thinking and totally misguided," Sir Richard wrote in his blog.
"Will BA never learn? Let's see how much they believe this. Let them put their money where their mouth is.
"The last time BA had to make a settlement to me for damages (in part for spreading not dissimilar false rumours) I split the money amongst our staff. Rather than suing them on this occasion, I will pay £1m to their staff if Virgin Atlantic disappears within, say, five years. If not, BA pays our staff £1m."
Virgin later confirmed that Delta Air Lines would buy the 49% stake in the transatlantic airline that is currently owned by Singapore Airlines for $360m. Virgin will retain its majority 51% holding, it said.
'Dislike'
Analysts said there was no love lost between the two airline bosses.
"Even in an industry that tends to have its fair share of larger-than-life characters, it is unusual to see such a high level of obvious dislike between two leading figures," Douglas McNeil, transport analyst at Charles Stanley brokers, told the BBC.
There has been a long history of disputes between BA and Virgin.
Sir Richard has been particularly critical of the number of take-off and landing slots at Heathrow Airport that BA holds, especially after IAG bought BMI, which gave it more slots.
Virgin blew the whistle on an alleged price fixing agreement with BA between 2004 and 2006, fuelling tensions between the two companies, says Mr McNeil.
In the early 1990s, Sir Richard also won damages and an apology from BA at the High Court for a "dirty tricks" campaign, in which BA allegedly poached passengers, staff and gave negative stories about the Virgin founder to the press.