Greece buyback puts debt at 34% of its value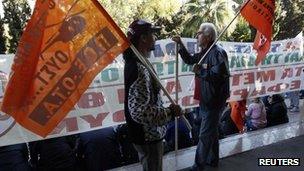 Greece has managed to buy back some of its debt, but did not succeed in reducing its total debt by as much as its backers had hoped.
After 11bn euros is spent on the purchase, the country will be writing off about 20bn euros of debt.
The buyback was a condition of Greece getting more of its bailout cash.
The French finance minister Pierre Moscovici said the "satisfactory" results of the auction should mean the funds are released later this week.
Greece has been waiting since June for the loans, to help its heavily indebted economy stay afloat.
The investors will be paid in six-month bonds from the eurozone's EFSF rescue fund.
The buyback called for 30bn euros to be repurchased - with the eurozone having set aside 10bn euros in funding to buy back the bonds and reduce Greece's overall debt load.
But Athens said it needed 11.29bn euros from the rescue fund - meaning the 17 nations behind the euro will have to cough up 1.29bn euros more.
The International Monetary Fund had said that Greece must successfully complete a buyback of its own debt to get its next round of bailout cash, worth about 44bn euros, on 13 December.
At the last meeting of Greece's bailout lenders, it was agreed to grant Greece a two-year delay in the speed of spending cuts, in order to take some of the pressure off the country's heavily-depressed economy.
However, the extension inevitably meant the Greek government would be overspending for longer and would therefore run up bigger debts than previously anticipated.
This prompted an objection from the IMF, which made clear that it could not lend money to a government whose debts it considered ultimately unlikely to be paid back.
The IMF's litmus test, laid down as a condition of Greece's latest bailout, is that the government's debts should fall to 124% of the country's annual economic output by 2020.
Private creditors had already agreed in March - for Greece's second bailout - to write off about 107bn euros of government debt. Many banks and insurance companies had officially given up hope of receiving any of the rest of their money back.