PPI texts must stop, says advertising watchdog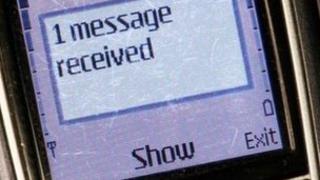 A company based in India has been ordered to stop sending text messages about PPI and accident compensation to UK consumers.
The Advertising Standards Authority (ASA) upheld complaints about the texts sent by Mumbai-based claims management company, Data Supplier.
It said it had not seen any evidence that the recipients had agreed to be included on the company's database.
The company failed to respond to the ASA when asked about the cases.
Many consumers have expressed their general frustration at receiving unsolicited text messages about payment protection insurance (PPI) mis-selling claims.
A huge industry in PPI claims has built up after providers started paying millions of pounds in compensation for policies sold to people who did not want or need them.
'Misleading'
The particular complaint dealt with by the ASA surrounded a text message that said: "We have been trying to contact you regarding your PPI Claim, we now have details of how much you are due, just reply CONFIRM and we will call you back."
A second text said: "Our records indicate you may be entitled to £3750 for the accident you had. To claim for free just reply CLAIM to this msg. To stop text STOP."
Three complainants, two of whom received the first text and one who received the second, challenged whether they were misleading and could be substantiated.
These people said they had not recently had an accident or did not believe that they were eligible to reclaim PPI payments, and suggested that the texts breached the advertising code because they were unsolicited.
The ASA ruling said: "We noted that we had not seen any evidence to show that the recipients of the texts had given their explicit consent to be included on the Data Supplier's database.
"We also understood that none of the recipients had recently had accidents or considered themselves to be eligible to make a PPI claim, and that the texts did not identify who the message had been sent from.
"For those reasons, we concluded that the texts were unsolicited and misleading and were therefore in breach of the code. The texts must not be sent again in their current form."