Deutsche Bank offices raided in carbon tax fraud probe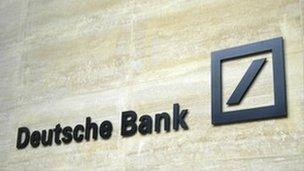 German prosecutors have raided offices belonging to Deutsche Bank as part of an investigation into a tax evasion scheme involving the trading of carbon permits.
The Frankfurt prosecutor's office said 25 employees of the bank were suspected of serious tax evasion, money laundering and obstruction of justice.
Arrest warrants have been issued for five of those employees.
Deutsche Bank said it was co-operating fully with the authorities.
"Public prosecutors searched Deutsche Bank offices today in connection with investigations that have been under way since the spring of 2010 against individuals suspected of tax evasion in the trading of CO2 emission certificates," Germany's biggest bank said in a statement.
Prosecutors said 500 police officers swooped on Deutsche Bank offices and private properties in Frankfurt, Berlin and Duesseldorf.
About 20 police minibuses and two large coaches were parked outside the bank's Frankfurt headquarters, where tax inspectors were seen leaving the building carrying backpacks and suitcases
Last year, a German court jailed six men over a 300m euro ($391m; £249m) fraud selling carbon emission permits through Deutsche Bank.
They bought the permits overseas and paid no tax, then resold the permits to each other to claim back tax illegally.
Under EU rules, limits are set on the amount of carbon dioxide companies emit, and those polluting less can sell 'credits' to those that need more.
Related Internet Links
The BBC is not responsible for the content of external sites.