Tax returns: HMRC warning to 300,000 late filers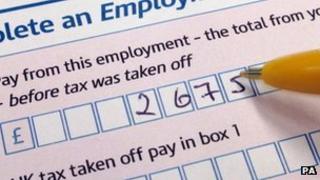 About 300,000 people who have failed to send in their tax returns for 2010-11 may have their goods seized.
The UK tax body is sending warning letters to those who have now run up late-filing penalties of £1,300 for that year, under self-assessment.
They can still pay, or ask for the penalty to be taken off their income in 2013-14 if they are in the PAYE system.
The letters are part of a continuing campaign against a persistent minority of non-filers.
A spokesman for HM Revenue & Customs (HMRC) said the defaulters could still pay their fines, and submit the late tax returns.
"These non-filers have ignored numerous communications from HMRC, dating back to April 2011, including flyers, reminder letters, penalty notices and warning letters," he said.
"A customer can still phone us if they think they should not be in self-assessment, and will be taken through a number of questions to indicate if they should be in self-assessment or not.
"If they shouldn't have been in it for 2010-11, penalties will then be waived," he added.
An HMRC spokesman stressed that the arrival of debt collectors on someone's doorstep would be at the end of process.
About 7,000 higher-rate taxpayers who had missed tax returns from earlier years were sent similar warning letters in October.
Chas Roy-Chowdhury of the ACCA accountancy body, called on the tax authority to make it easier for people to pay their fine even when bailiffs arrive.
"It is very difficult to get through to HMRC quickly enough to see get it resolved," he said.
He suggested a clear and local telephone number be provided to people in this situation.