PetroChina agrees $2.2bn Encana natural gas deal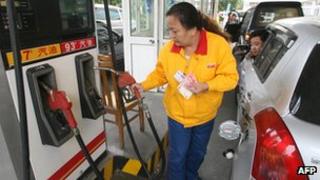 PetroChina has agreed a deal to buy a 49.9% stake in Canadian firm Encana's natural gas project in Alberta.
According to Encana, the project contains supplies equivalent to nearly nine billion barrels of oil.
State-owned PetroChina, the country's biggest oil and gas producer, will pay $2.2bn (£1.3bn) for the stake.
It is the latest investment in an overseas oil and gas resource by a Chinese firm as companies look to meet growing domestic energy demand.
Earlier this week, PetroChina said it would buy BHP Billiton's stake in an Australian liquefied natural gas project.
Meanwhile, another Chinese firm, CNOOC, got approval from Canadian authorities earlier this month to take over oil firm Nexen.
Government review?
The CNOOC-Nexen deal, worth $15.1bn, was China's largest foreign takeover and it raised concerns about Chinese influence on the Canadian oil and gas industry.
While the Canadian government did approve the deal, it had hinted that it was likely to block any similar future takeovers.
Canada has unveiled new rules which prevent state-owned companies from taking control of Canadian oil sands businesses, unless there are "exceptional circumstances".
While investments by state-owned firms that do not involve acquisitions are allowed, Canadian authorities said they were reviewing the details of PetroChina's investment "to determine if it is reviewable under the act".
"There are circumstances in which control is deemed to be acquired, even where a minority ownership interest is involved," said Margaux Stastny, spokeswoman for Canada's industry minister.