Household incomes being squeezed, Lloyds TSB says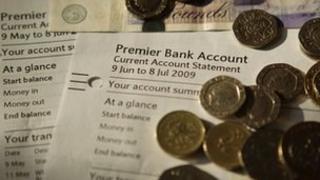 Inflation is continuing to undermine people's spending power, says Lloyds TSB.
The bank says inflation in November rose 0.1% faster than the earnings of its current account customers.
New cash payments into their bank accounts, after deducting essential spending, were outstripped by inflation for the first time since May this year.
Lloyds TSB said this meant its customers were enduring a continued squeeze on their household finances.
The bank estimated that its customers had suffered a cut in their annual spending power of only £11, but added that "the squeeze on household budgets remains and is still to show any material signs of easing."
The fact that wages and salaries have been going up more slowly than prices is well established.
In October, the Office for National Statistics (ONS) reported that national income per head, after taking inflation into account, had dropped by more than 13% since the beginning of 2008.
Last month, a separate ONS report, the annual survey of hours and earnings, showed that while average earnings had risen by 1.4% in the year to April 2012 - to £26,500 - this had been outstripped by inflation, which had risen over the same time by 3.5%.
In fact inflation has outstripped the rise in average pay for the past 12 years.
Counting cash
Since April 2011, Lloyds TSB has been looking at the flow of money in and out of its customers' current accounts each month.
It counts the inflow of money, and then gathers information from the payments the customers make via their debit cards, direct debits and standing orders.
From this the bank deduces how much has been spent on what it considers to be essential items, such as mortgages, rents, utility bills, council tax, food, fuel and debt payments.
What is left after this calculation is called "discretionary spending" which is used as the measure of spending power,
The bank adjusted this to take into account inflation, using the change in prices of the non-essential items in the basket of goods which is used to calculate the official consumer prices index (CPI).
However, Lloyds warned that not too much should be read into one month's figures.
It said the cost of non-essential spending had been pushed up by a rise in student tuition fees, and although this had driven up the average cost of living these fees were obviously paid by only a minority of the population.
"Average spending power in real terms may mask significant differences between students and non-students," the bank pointed out.