Clinton Cards has a new look, but can its reinvention work?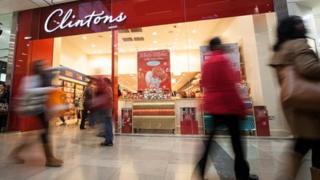 Remember Clinton Cards with its brash orange signage and ubiquitous soft toy bears? You'd be hard pushed to recognise it now if you visited one of the new-look stores.
The name has changed, too. It is now known simply as Clintons.
With warm red colours and stylish wooden flooring, this chain has gone upmarket as it tries to reinvent itself and turn a profit once more.
But are retail turnarounds still possible in these tough economic times?
It has been a rollercoaster of a year for the High Street as yet another wave of household names collapsed into administration.
Outdoor-wear specialist Blacks Leisure was the first to go this year, followed by gift shop chain Past Times, JJB Sports and out-of-town electricals giant Comet. One of the biggest was Clinton Cards, with 750 stores.
It was controversially pushed into administration in May by one of its key suppliers, American Greetings. After ditching half the stores, it then bought the remaining business and needed someone new to take the reins.
And that is when Dominique Schurman got a call on the west coast of America.
She is the boss of the greetings card business, the Schurman Retail Group, in which American Greetings holds a 15% stake.
"When I got here, it was quite remarkable the amount of work that was necessary," she told me.
"It was clear stores were old, tired and run down and that a radical transformation of the business was required in order to resuscitate and revive the brand.
"One of the biggest shocks for me was the total lack of systems and technology. It was unfathomable to run a business of this size with no inventory management or stock control."
In other words, it is amazing Clinton Cards lasted as long as it did.
Bigger spend
The new owners have moved at lightning speed, updating stores and operating systems.
About £16m of investment is being poured in. The first 70-odd stores have already been kitted out, with the emphasis on gifts. The rest will be done over the next two to three years.
That is because they want customers to part with more cash.
"The average spend previously was around £5, so customers were buying one or two cards with nothing else. Our goal is to get upwards of £10, and we're fast approaching that," Ms Schurman says.
And she believes Clintons could break even this financial year, and if not then, definitely the next.
That is no mean feat given this retailer lost more than £10m in its last year of trading.
But retail turnarounds are no easy thing, even in the good times.
Over the past few years, we have seen a lot of big names going to the wall. And for those that remain, market conditions are really challenging.
"The customer has less money, and is much sharper in looking for a better offer. Then there's the structural changes in the market where the internet has taken away large chunks of High Street business," says Rupert Eastell, head of retail at the accountancy firm Baker Tilly.
"But the overriding factor is that everything is changing quicker. Unless a business that faces difficult times ahead takes action at an early stage, and decisively, they're not likely to find a successful outcome," he says.
So does he think that more turnarounds succeed than not?
"I think the statistics will show that over the last four or five years when you use the term turnaround and apply it to the retail sector, we will be surprised by the poor results that will emerge."
"But I do think there are a whole number of businesses out there that are being turned round that actually have started that process far earlier, and have done that quietly and confidently, and are typically not so overstretched on finance that they have the ability to make those changes," Mr Eastell says.
'Lost our way'
It is early days at Clintons. And there is no doubting the commitment of the staff.
At a visit to the headquarters in Debden, Essex, I bumped into Stuart Houlston, a veteran of 20 years service who is excited at the changes taking shape.
He is overseeing the creation of a new distribution centre, something he had long been itching to do.
"We lost our way, and now I've been given a second chance," he told me.
Just give us time, is the message from the boss. Unlike some private investment firms, Ms Schurman says, the new owners are in it for the long term.
Christmas is their first crucial test. And if this household name makes it back into the black, the next challenge will be to find that elusive growth.